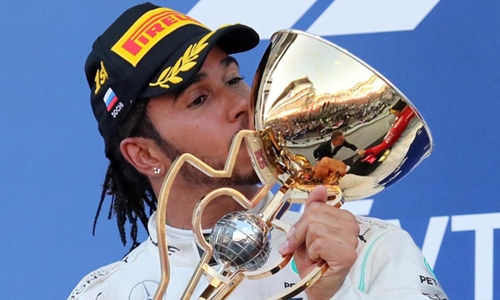 Mercedes one-two win down to teamwork: Lewis Hamilton
Lewis Hamilton paid tribute yesterday to the respect and team-work that enabled Mercedes to secure him victory in an unexpected one-two for the Silver Arrows in the Russian Grand Prix. In stark contrast to the radio feuds, claims of a broken drivers' agreement and reliability problems that undid rivals Ferrari's bid for a fourth consecutive victory in Sunday's race, the champions rediscovered their unity and sense of purpose to take full advantage.
Referring to his relationship with team-mate Valtteri Bottas, the defending five-time champion said: "We work together so it's all about respect, having respect and, I think that respect has been there since day one. "We talk about scenarios very openly. Valtteri has always been respectful in those scenarios and I think it's vital that we are both acting accordingly, which we do, I think."
Hamilton was responding to reporters' questions after Sunday's race at the Sochi Autodrom where a radio feud, over a perceived broken agreement, between Ferrari's Charles Leclerc and Sebastian Vettel upset their bid for a victory to end Mercedes six-year dominance of the Russian race.
Mercedes team chief Toto Wolff, who managed a strained relationship between Hamilton and his former team-mate Nico Rosberg, the 2016, champion, said he understood and sympathised with the position of Ferrari counterpart Mattia Binotto. "It shows a few things, I think," he said. "It is very difficult to manage drivers that have the aspiration to win the race and we have had that in the past –- and we still have it.