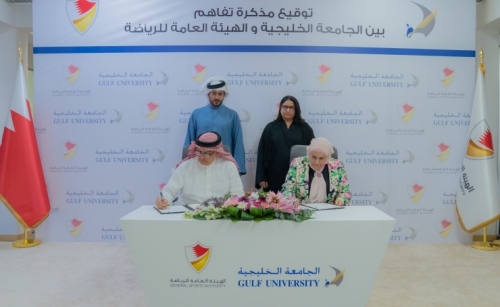 Motivating youth to excel in academic and sports careers
TDT | Manama
The Daily Tribune – www.newsofbahrain.com
The American University in Bahrain (AUBH) has joined other academic institutions supporting Khalid bin Hamad Gold Generation Initiative, which aims to motivate the youth to excel in their academic and sports careers.
It signed a memorandum of cooperation with the General Sports Authority (GSA), in the presence of His Highness Shaikh Khalid bin Hamad Al Khalifa, Supreme Council for Youth and Sports (SCYS) First Deputy Chairman, GSA Chair and Bahrain Olympic Committee (BOC) President.
Gulf University (GU) Board of Trustees' Chairperson Dr Mona bint Rashid Alzayani sealed the agreement with GSA Chief Executive Officer Dr Abdulrahman Sadiq Askar.
In attendance were GSA Deputy Chairman HH Shaikh Salman bin Mohammed Al Khalifa, Higher Education Council (HEC)) Secretary-General, HEC Board of Trustees' Deputy Chair Dr Shaikha Rana bint Isa bin Daij Al Khalifa and other officials.
HH Shaikh Khalid commended the contribution to the Gulf University to the initiative, which aims at supporting talented players to enroll outstanding local universities while excelling in their sports careers.
He stressed keenness on supporting players' academic studies, in light of the importance attached by His Majesty king Hamad bin Isa Al Khalifa to education.
Dr Shaikha Rana stressed cooperation between academic establishments and the General Sports Authority, which inspires the youth to succeed in their academic and sports careers.