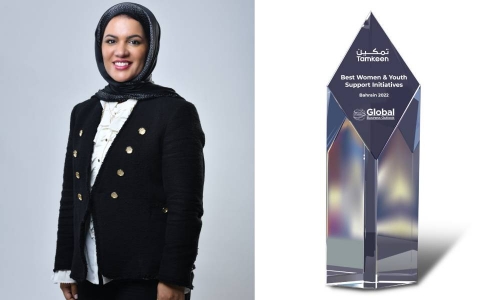 Tamkeen wins 2022 Women and Youth Support Initiatives award by Global Business Outlook
TDT | Manama
The Daily Tribune – www.newsofbahrain.com
The Labour Fund "Tamkeen" was awarded the 2022 Women and Youth Support Initiatives Award by Global Business Outlook, highlighting Tamkeen's continuous efforts to advance Bahraini women in various economic sectors, in addition to its role in promoting youth in the labor market.
Global Business Outlook is a UK-based publication specialising in covering global sectors and activities, highlighting the efforts of private and public sector institutions around the world.
Tamkeen's Acting Chief Executive, Maha Mofeez said: "Since its establishment, Tamkeen has worked tirelessly to reflect the national visions and priorities of Bahrain, which include addressing the needs of Bahraini women so that they continue to be active participants across various sectors, as well as supporting youth by creating an environment that enhances their contribution to the labor market.."
She continued: "Tamkeen being awarded for its support initiatives aimed at women and youth in the Global Business Outlook Awards is evidence of our achievements in supporting the national economy in line with strategic directions over the past fifteen years."
Through its programmes and initiatives, Tamkeen has supported over 15,000 female-led enterprises and over 7,000 women have been empowered to launch new businesses. Tamkeen has also supported the training of over 53,000 Bahraini women and nearly 18,000 jobs for Bahraini women.