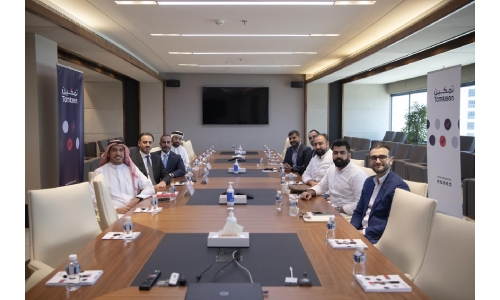 Tamkeen monitoring impact of support
TDT | Manama
The Daily Tribune – www.newsofbahrain.com
The Labour Fund "Tamkeen" is continuing to hold its meetings with enterprises that have received support through the recently launched programmes.
The programmes focus on increasing productivity and achieving a positive impact on the local economy, while also addressing current and potential market changes.
The meeting included representatives of enterprises across technology, cybersecurity, jewellery, accounting and auditing, restaurants, and personal services.
This initiative focuses on understanding their future aspirations while also exploring how they can utilize Tamkeen's support in training, investment, and expansion.
Husain Mohamed Rajab, the Chief Executive of the Labour Fund (Tamkeen) encouraged business owners and entrepreneurs to identify new ideas and market opportunities, shedding light on the most important indicators and growth prospects in several sectors.
Mahmood Al Adraj, Founder of VirtuThinko thanked Tamkeen for their efforts.
He said: "This meeting allowed us to share our feedback on the human capital and enterprise support programs, while also helping to identify other support opportunities that could contribute to the development and expansion of projects outside the Kingdom."
Mahmood Qannati, Founder of Objets D'Art, praised Tamkeen's transformation initiative.
He said, "I am happy to have participated in Tamkeen's meetings with enterprise owners, which highlights how keen Tamkeen's management is to learn more about the challenges faced by entrepreneurs, as well as the impact of Tamkeen's new support programmes on their business plans, and how to contribute to providing further solutions that offer opportunities for the growth, development, and expansion of projects.