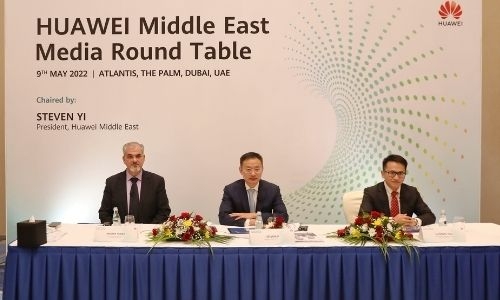 Huawei highlights commitment to accelerate Bahrain's digital transformation vision
TDT | Manama
The Daily Tribune – www.newsofbahrain.com
During an exclusive media roundtable from 10 Middle East countries held on the sidelines of the SAMENA Leaders' Summit 2022, the top telecom industry event hosted by Huawei for the 9th consecutive year, Steven Yi, President of Huawei Middle East, highlighted Huawei's commitment to support Bahrain's government achieve its digital transformation vision with 5G networks and other advanced technologies as an enabler.
The summit was attended by industry leaders, experts and decision makers from telecom companies, regulatory bodies, industry organizations and related stakeholders from SAMENA Region (South Asia, Middle East North Africa). During the summit, Yi stressed on the importance of the telecom sector as an enabler for other industries' sustainable development and growth in light of the evolving 5G landscape and the immense opportunities for enterprises in the 5G era.
The theme of this year's Summit is "Thriving with Resilience & Integration in the New Opportunity Realm", where experts and industry leaders discussed the integration of technologies, investments in infrastructure, connectivity and the availability of spectrums to create opportunities for digital transformation of various industries and help countries in the Middle East achieve their vision.
"Regulators and governments have placed great emphasis on the growth of digital economy in various sectors, we hope to see more supportive policies from the governments which aims to improve the quality of network services, and in the end speed up the growth of the economy and digital transformation," said Yi. Additionally, leading regional operators and Huawei launched IntelligentRAN, an advanced telecom network solution, which comes in line with Huawei's objective to empower the telecommunication sector with more advanced innovations and value for its own business and other sectors and industries businesses by means of injecting intelligent to wireless networks and achieve autonomous driving network in the wireless domain in the future.
With digital technologies advancing rapidly, securing networks and cybersecurity continues to be Huawei's top priority. "We have a sound cybersecurity and privacy protection assurance structure which has a leading global records," Yi said. In 2021, Huawei invested over 22% of annual revenue in R&D targeted at supporting the longterm sustainable development of the ICT industry.
Yi emphasized the company will continue to invest significantly in intelligent solutions and services such as ICT infrastructure and cloud services. Yi also highlighted that Huawei is committed to use its global knowledge and expertise in over 170 markets and in mega projects such as the 2018 World Cup in Russia and 2022 Beijing Winter Olympics to the benefit of the Middle East region mega events, including successfully guaranteeing Saudi Arabia's Hajj network for 16 years, accident free and offering unprecedented experiences to the upcoming 2022 Qatar World Cup. "We remain committed to collaborate with our suppliers and partners to provide customized, secure, reliable, stable and competitive solutions to our customers in the Middle East Region," Yi said.