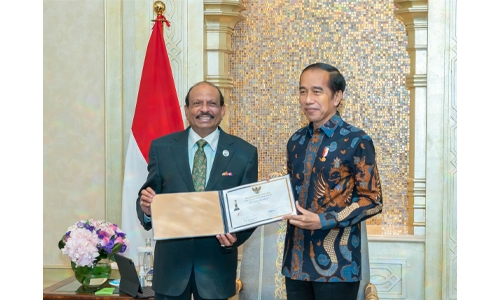 Top Indonesian honour for Lulu's Yusuff Ali
Agencies | Abu Dhabi
The Daily Tribune – www.newsofbahrain.com
Yusuff Ali MA, Chairman of Abu Dhabi-based Lulu Group, has been honoured by the Indonesian Government with the Prima Duta Award 2021, one of the highest honours in the country.
The prestigious award is given to recognise contributions made in the economic and commercial sectors of Indonesia. It was presented by Indonesian President Joko Widodo to Yusuffali MA at a ceremony held at Emirates Palace in Abu Dhabi in recognition of the strategic investments made by Lulu Group in Indonesia, which has given a huge boost to the country's economy and created employment opportunities for its citizens.
Also present on the occasion were Mohamed Lutfi, Trade Minister of Indonesia, Abdullah Al Dhaheri, UAE Ambassador to Indonesia, Hussain Bagis, Indonesian Ambassador to the UAE and other dignitaries. The Lulu Group has a strong presence in the Indonesian retail sector.
It has five hypermarkets in many cities of the country and plans to add 30 more hypermarkets in the country including Bali, a top tourist destination. The first Lulu Hypermarket at Cakung in Jakarta was inaugurated by Indonesian President Widodo in 2016.
Apart from retail, Lulu also sources and exports various Indonesian origin food and non-food products including garments, fruits, vegetables, fresh and frozen fish, prepacked food products, handicrafts, fashion accessories and household items to various countries throughout the Group's retail stores.
The sourcing facilities in Indonesia is partnering with thousands of Indonesian farmers, fishermen, small scale entrepreneurs, medium and largescale factories among others for this initiative.
The Group also exports rice, noodles, cookies, potato snacks, wafer biscuits and fish products in its own Lulu Brand from Indonesia to all GCC countries.
"Proud and humbled to receive one of the top honour from Indonesia and I am very much thankful to the President and the Government of Indonesia.
This recognition would further encourage us to have a strong presence in the commercial sector of Indonesia," said Yusuff Ali on receiving the award.