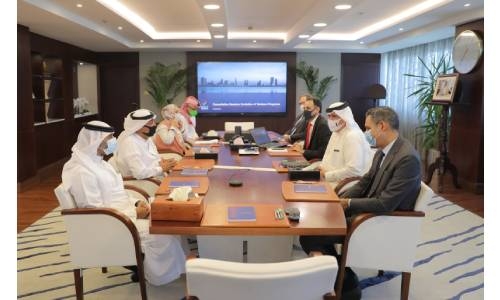 TDT | Manama
The Daily Tribune – www.newsofbahrain.com
Shaikh Mohammed bin Essa Al Khalifa, Chairman of Labour Fund "Tamkeen," called for united efforts to continue building on the Kingdom's economic gains to date.
This came as Shaikh Mohammed was meeting Chamber's President, Sameer Abdulla Nass, and other members.
The meeting was part of a series of consultative and introductory sessions Tamkeen initiated last May for designing new programmes, collecting feedback on its current programmes and market demand.
Shaikh Mohammed said that Tamkeen, through its cooperation with the Chamber, aims at improving the role of Bahraini institutions, their contribution to the National Economy, creating more high-quality job opportunities for Bahrainis, boosting productivity, and encouraging business expansions locally and globally.
Shaikh Mohammed also praised the Chamber's prominent role as a partner in the private sector's success and growth.
Sameer Abdulla Nass, the President of the Bahrain Chamber of Commerce and Industry, reiterated the importance of enhancing the role of the Private Sector in boosting the National Economy.
Nass added: "The Bahrain Chamber hopes that the proposed improvements to Tamkeen initiatives would help overcome difficulties encountered by small and medium enterprises, particularly during the COVID-19 recovery period."
Husain Mohammed Rajab, Chief Executive of Tamkeen said, "Tamkeen is currently holding a series of meetings with representatives from the Private Sector toward maximising the opportunities it provides."
Rajab emphasised the importance of responding to current market transformations and the need for innovative ideas to improve employment and training opportunities for Bahrainis.