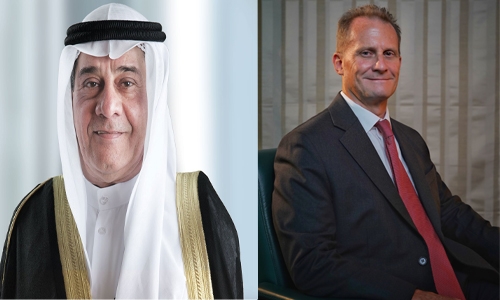 VC bank posts results, plans to restart investments
TDT | Manama
The Daily Tribune – www.newsofbahrain.com
Bahrain-based Islamic Bank, the Venture Capital Bank, announced its financial results for the second quarter of 2020-2021, reporting a substantial reduction in losses, notwithstanding the repercussions of the COVID-19 outbreak. "This quarter saw a lower loss than the previous quarter by 79.26%, which is due to the upside of the Fair values of the investments," said VCBank Chief Executive Officer and Head of Investment and Post Acquisition Robert C. Wages.
The year 2020, according to Abdulfatah Marafie, the VCBank Chairman, has been challenging across the globe, "with all institutions, including financial and economic entities, affected by the repercussions of the Coronavirus (Covid-19) pandemic, showing a decline in profitability and revenue rates."
"As such, VCBank has continued to adopt a prudent operational policy in line with the new shifting landscape and bear the least possible losses." The bank, he said, is looking forward to restarting its investment activities in the medium term, "thereby generating revenue and cash flow, and returning to profitability in the near future." VCBank's debt restructuring process, Marafie said, is close to completion, the license conversion process reached an advanced stage and has a healthy pipeline of income-yielding deals.
Quarterly results
Net loss for the second quarter of 2020-2021, corresponding to the three months ended 31 December 2020, was USD1.795 million, compared with a net loss of USD43.497 m (restated) during the same period of the previous year.
Total income in the three months ended 31 December 2020 was USD1.471 m, against USD4.313 m (restated) during the same period in 2019, with a decrease of 65.89%.
Total expenses amounted to USD3.556 m, compared to USD3.370 m (restated) in the same period in 2019. Total assets increased by 2.93% to USD131.971 m, compared to USD128.220 m (restated) in the period ended 30 June 2020, primarily due to net fair value gains recorded on the bank's investment portfolio.
Further exits
Chairman Marafie said the bank is in "advanced stages of further exits that it expects to announce shortly, serving to generate significant cash for the institution." VCBank, he said, is also planning a modest capital increase "in which shareholders will have the option of participating in cash or in kind, by way of contributing investment positions they hold with VCBank to maintain their percentage shareholdings in the Bank."
To sell 20% stake in QCon
"The bank's provisions have generally gone up in value; however, we have decided to take more provisions against certain guarantees that were provided to investee companies to ensure that these guarantees will not affect future capital or profitability should they be exercised," added Wages VCBank, he said, had also finalised agreements to settle its USD 70.7mn Wakala obligations and is expecting execution of the documents imminently.
He said the bank had executed an agreement to sell a 20% stake in QCon (100% of the Company), including the 4.61% owned by VCBank.