Mohamed Hassan Al Mahroos Company signs exclusive partnership agreement with Toro
TDT | Manama
The Daily Tribune – www.newsofbahrain.com
Mohamed Hassan Al Mahroos Company has announced the signing of an exclusive partnership agreement with American company Toro, the world leader in the manufacture of modern irrigation equipment.
Al Mahroos Company will now be the exclusive distributor in Bahrain and Saudi Arabia of Toro's products and provider of modern and advanced irrigation systems as well as smart water-saving technologies, which are based in the US.
Toro is one of the largest companies specialised in modern irrigation technologies in the world, which has accumulated experience in the field of irrigation of gardens, green spaces, agricultural projects, golf courses and artificial lakes.
Since its inception in 1914, Toro has been recognised as the first supplier of farm tractors in the US and has now become the leading global provider of innovative irrigation solutions, including garden maintenance mechanisms, green landscaping, management and operation of infrastructure construction, and the development of all solutions in the field of irrigation.
The company's customer base extends to more than 125 countries around the world and provides a wide range of products to service a wide range of golf courses, government institutions, farm owners and contractors.
Toro has several advanced irrigation systems, most notably the Sentinel System, which ensures communication via radio, optical fibres or cables to provide centralised irrigation control.
It also provides modern irrigation services with high accuracy while saving time and facilitating the irrigation process for all customers.
Commenting on the new partnership, Talal Al Mahroos, Executive Director of Al Mahroos, said: "We are pleased to sign this strategic partnership agreement with one of the most prestigious international companies that continue to lead in harnessing the latest technologies in developing modern irrigation systems, which in turn meet the needs of customers and various projects, such as gardens, agriculture and other green areas in order to serve the goals of preserving the environment and its resources.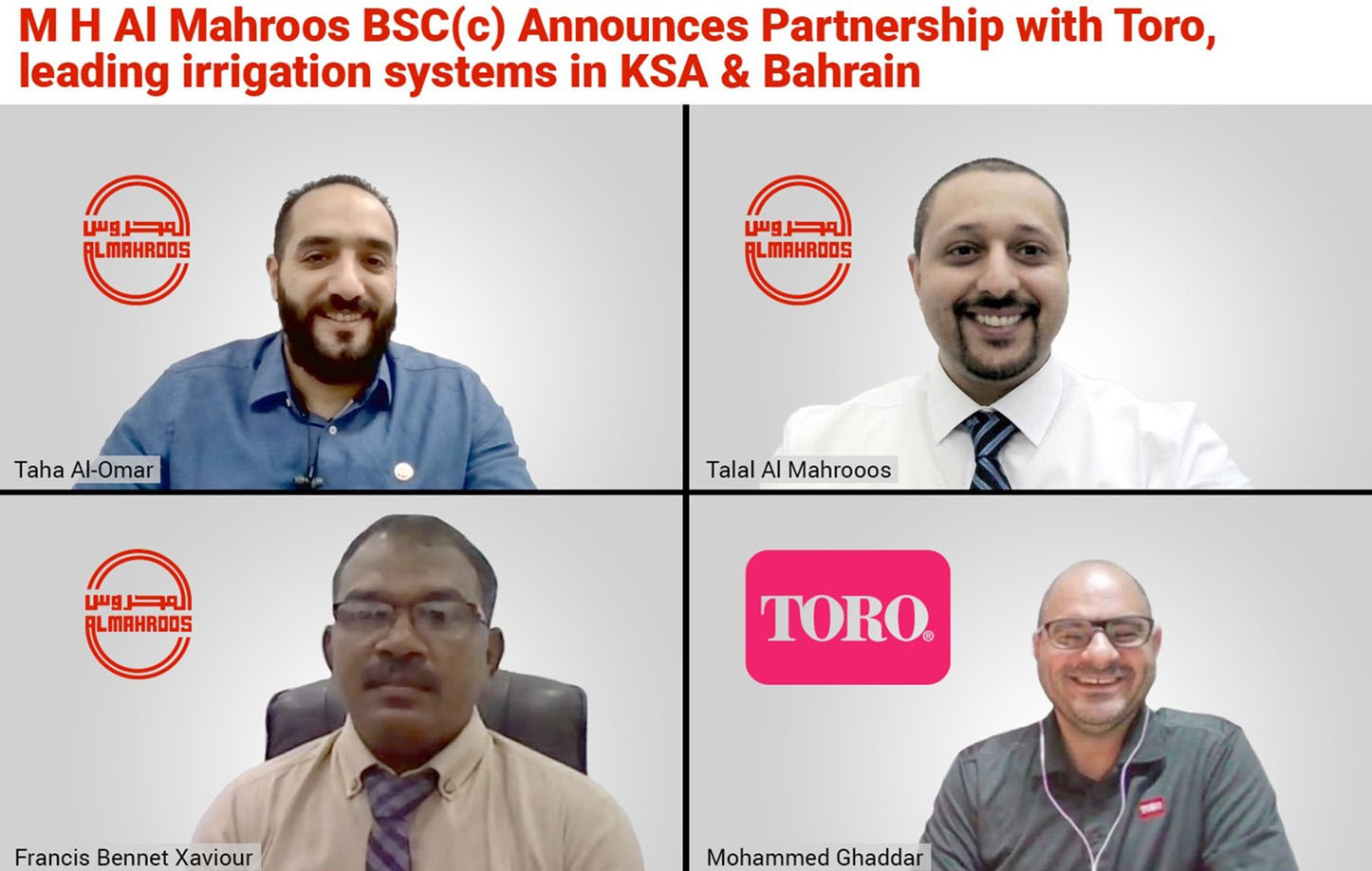 "Muhammad Hassan Al Mahroos is proud to be the exclusive supplier of Toro products and solutions for modern irrigation systems and smart programs in the Kingdom of Saudi Arabia and the Kingdom of Bahrain.
This reflects our keenness to adopt its policy of providing the finest applications and automated equipment to contribute to the implementation of large projects in both kingdoms, in which we aspire to provide them in the market and keep pace with the aspirations of the region in taking advantage of the latest engineering and technical mechanisms in order to increase our ability to reduce time and effort".
Mohamed Ghaddar, Regional Sales Director of Toro, Middle East and Africa, said: "We are delighted with the new partnership with Al Mahroos in both the Kingdom of Saudi Arabia and the Kingdom of Bahrain.
Through this partnership, we will strive to serve the aspirations and goals of Al Mahroos by making use of our modern technologies in irrigation, and we look forward to cooperating with the company to provide the best and most advanced solutions in the field of irrigation systems and water management.
"For more than 10 decades since its inception, Toro has strived to reduce environmental impacts and maximise the efficiency and production of resources in its operations, products and services to customers, in a way that ultimately increases environmental protection. Investing in innovation and developing new products is an integral part of our strategy by providing alternative energy solutions, smart applications and automated technologies, thus providing various advantages, such as less time and effort in addition to lower costs."