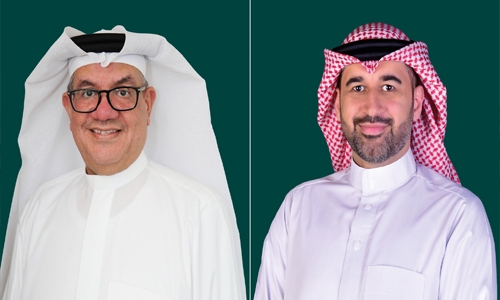 KFH – Bahrain launches Libshara 2021 campaign
TDT | Manama
The Daily Tribune – www.newsofbahrain.com
Kuwait Finance House– Bahrain renewed its Libshara Investment Savings Account Promotional Campaign, to start from January 1, with more cash prizes to be awarded in compliance with Shari'a principles to more than 1,000 lucky winners throughout 2021. The campaign includes two mega cash prizes of USD $500,000 each, and a monthly grand prize of USD $100,000 for one winner, in addition to monthly cash prizes for a wide variety of categories.
Khalid Al-Maarafi, Executive Manager and Head of Retail & Private Banking, said: "Launching our renewed Libshara Investment Savings Account Promotional Campaign demonstrates our commitment to providing best-in-class banking products and services and availing superior promotional campaigns to our loyal clients."
Hamed Mashal, Head of Retail Banking elaborated: "In line with our ongoing efforts to provide outstanding banking products and services to our clients, we are pleased to announce that we have increased the number of lucky winners of our new Libshara Promotional Campaign, which also includes the unveiling of many more surprises throughout the year".
Libshara 2021 Campaign continues to offer special category prizes. In addition to the main grand prizes, fifty clients will win monthly cash prizes of $500 each in the categories of "Our Women", "Our Children", "Our Savers" and "Our Cards", in addition to the previously announced JAZEEL prize, which is awarded to Libshara clients who open both JAZEEL and Libshara accounts.
In line with the Bank's strategy to reinforce its culture of investing with KFH – Bahrain clients, Libshara Account loyalty programme increases clients' chances to win when investing for longer terms. For example, for every BD 50 invested for a term of 90, 180 or 360 days, the client receives one, two or three chances, respectively, to enter the mega prize draws.
Libshara Account is a Shari'a compliant investment savings account giving clients the opportunity to win monthly cash prizes. It is available to the citizens and residents of the Kingdom of Bahrain and other GCC countries, who are aged 18 or older. Minors can also open Libshara accounts through their parents or legal custodians and qualify for entry using KFH Jazeel App, without having to visit any of the KFH – Bahrain branches. Libshara Account is also available to individuals and institutions, and can be opened in Bahraini Dinar or United States Dollar.