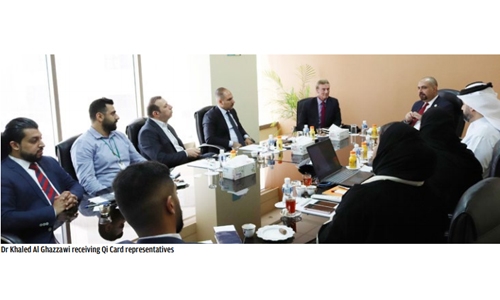 Ebdaa Bank set for Microfinance Cooperation with Qi Card
The Executive Officer of Ebdaa Microfinance Bank, Dr Khaled Al Ghazzawi, confirmed that the Bank is willing, through the Arab Gulf Development Programme (AGFUND), to support microfinance industry in all countries of the region. During a meeting at his office at the Bank's headquarters in Sanabis with representatives of the international smart card company "Qi Card", Dr Al Ghazzawi affirmed that Bahrain has an integrated and advanced structure for the microfinance industry.
"Ebdaa Bank served more than 14000 clients received BD 13 million of loans during the past ten years with a total of 2,670 Bahraini micro-entrepreneurs currently receiving loan amounts of up to BD 3 million," he added.
For his part, Scott Munden CEO of Qi Card stressed the keenness of the company to benefit of Bahrain success in microfinance, and transfer this experience to Iraq to serve their economy and development. Qi Card has more than 8 million customers in Iraq and is currently moving towards microfinance and benefiting from the experience of AGFUND in this sector.