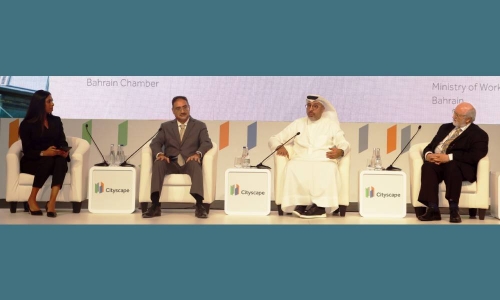 Bahrain emerges as investment hub powered by infrastructure-real estate linkages
TDT | Manama
The Daily Tribune – www.newsofbahrain.com
Reported by Ashen Tharaka
Bahrain has been lauded for its admirable synchronisation of infrastructure and real estate development, a strategic approach that has fueled the Kingdom's economic growth and positioned it as an attractive investment destination.
Patrick Dominic Mc Polin, former Ministerial advisor and former Chief of the Central Planning Office(CPO), Ministry of Works, Bahrain, made this statement at a panel discussion held parallel to the Real-Estate Innovation Award Ceremony in Exhibition World Bahrain.
Infrastructure development plays a pivotal role in unlocking the full potential of the real estate sector. By investing in roads, bridges, ports, and other essential infrastructure, Bahrain has created a conducive environment for real estate projects to flourish.
The real estate sector, in turn, has contributed significantly to Bahrain's economic diversification and job creation. By developing residential, commercial, and industrial properties, the sector has attracted both local and international investors, generating substantial revenue and stimulating economic growth.
The synchronisation of infrastructure and real estate has been particularly evident in the development of Bahrain's key economic hubs, such as Diyar Al Muharraq. These master-planned communities showcase the seamless integration of infrastructure and real estate, offering a blend of modern amenities, efficient transportation networks, and thriving business environments.
The government's commitment to infrastructure development and real estate growth has been unwavering. Initiatives such as the National Infrastructure Plan and the Real Estate Regulatory Authority have streamlined processes, attracted investments, and fostered a stable regulatory environment.