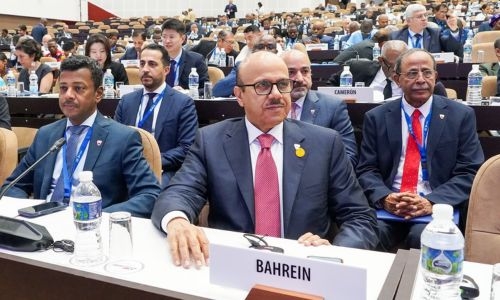 Bahrain advocates global unity to transform challenges into opportunities at G77+China Summit
TDT | Manama
The Daily Tribune – www.newsofbahrain.com
Bahrain has called on nations worldwide to unite their efforts, energies, and capabilities to transform the challenges faced by developing nations into genuine work opportunities.
The comments by Dr. Abdullatif bin Rashid Al-Zayani, the Minister of Foreign Affairs, came during the Kingdom's participation in the G77+China summit in Havana, Cuba. This group represents developing and emerging countries, encompassing 80% of the world's population.
The minister also urged the strengthening of collective efforts within the Group of 77 and China to address pressing issues affecting developing countries.
Dr. Al Zayani made these remarks in an address to approximately 30 heads of state and government officials from Africa, Asia, and Latin America at the two-day summit in Havana. United Nations Chief Antonio Guterres also participated in the event.
Leaders from Latin American countries, including Nicolas Maduro of Venezuela, Gustavo Petro of Colombia, and Alberto Fernandez of Argentina, were present at the summit. Additionally, Palestinian leader Mahmoud Abbas, Angola's Joao Lourenco, and Mozambican President Filipe Nyusi attended.
In his address at the summit, which commenced with a call to "change the rules of the game" in the global order, Dr. Al Zayani emphasised Bahrain's commitment to transforming challenges into opportunities through practical efforts. He stressed the pivotal role of the Group of 77 and China, highlighting Bahrain's aspiration to create a secure and sustainable environment where differences in religion, sect, race, creed, or ideology do not impede progress or hinder the pursuit of peaceful relations.
Dr. Al Zayani stated that Bahrain firmly believes in protecting and promoting human rights and fundamental freedoms for all individuals, irrespective of their backgrounds or beliefs.
Describing today's world as 'complex,' the ministry underscored the significance of conflict resolution and the promotion of understanding among nations. He stated that the Kingdom staunchly believes that dialogue, mutual respect, and cooperation are the fundamental pillars for achieving sustainable peace and stability.
Moreover, Bahrain recognises the importance of comprehensive and equitable development, ensuring the well-being of all individuals without leaving anyone behind.
"We believe that empowering people, especially the most vulnerable, and promoting sustainable economic growth will enable us to achieve stability and prosperity for all," he added.
Regarding this matter, the ministry emphasised the necessity of investing in knowledge-based industries and reiterated its commitment to fostering a culture of innovation and research, with a focus on critical areas such as renewable energy, artificial intelligence, and digital transformation.
The minister also called for the involvement of governments and regional organisations in crafting sustainable solutions to crises, exchanging best practices, and supporting initiatives that bridge the gap between developing and developed countries.
The Bahraini delegation participating in the meeting included Ambassador Jamal Fares Al-Ruwaie, Permanent Representative of Bahrain to the United Nations in New York, the Kingdom's Ambassador to Cuba, Ambassador Talal Abdul Salam Al Ansari, Director-General of the Ministry of Foreign Affairs, and the delegation accompanying the Minister of Foreign Affairs.