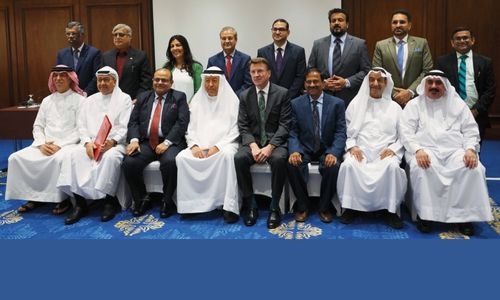 Bahrain Industry Minister's India visit successful
TDT | Manama
The Daily Tribune – www.newsofbahrain.com
After the successful visit of the Minister of Industry and Commerce, H.E. Mr. Abdulla bin Adel Fakhro, to India from March 15–18, 2023, Bahrain Indian Society (BIS) conducted a briefing yesterday at Crown Plaza.
Participants in the conference included H.E Piyush Srivastava, Indian Ambassador, Mr. P S Balasubramanyam, Vice President of BIS, Mr. Iain Lindsay, Advisor, Economic Development Board, Mr. Mohammed Abdul-Jabbar Al Kooheji, Second Vice President of Bahrain Chamber of Commerce and Industry (BCCI), and Mr. Abdulrahman Juma, Chairman of Bahrain India Society.
The signing of the Memorandum of Understanding (MOU) between BIS and Confederation of Indian Industry (CII) in New Delhi during the CII partnership Summit was the highlight that made the BIS delegation's visit noteworthy.
The MOU's primary goal is to strengthen commercial and economic ties between the Kingdom and the Indian government.
The briefing highlighted the Bahraini delegation's series of meetings, both at the official and business level during the visit. H.E Mr. Fakhro met with H.E Minister of Commerce and Industry of India, Shri Piyush Gopal, and Minister of Micro, Small and Medium Enterprises, Shri Naryan Rane.
The delegation included over 60 representatives from various public and private sectors.
Speaking to The Daily Tribune, Ambassador Srivastava, said: "From the past two years, despite so much restriction posted by the Covid, our regular interaction and exchanges at higher level both political and official continued.
"Following a telephone chat between our Prime Minister and HM the King and H.E. the Crown Prince, there have been several physical and virtual bilateral visits. Most recently, in the month of March, the Speaker of the Lok Shaba in India, paid a visit to Bahrain." He added, "I would say the bilateral relations are looking very good.
There is a lot of momentum and potential and we will have more interaction in physical form, and results are already there to see."
"The "Partnership Summit" drew more than 400 prominent commercial and political figures, including numerous Ministers from India and from more than 50 countries.
"The delegation also held meetings with other prominent Indian Chambers of Commerce and Industry including Federation of Indian Chamber of Commerce and Industry (FICCI) Indian PHD Chamber of Commerce and Industry and Indian Chamber of Commerce and Industry," he said.