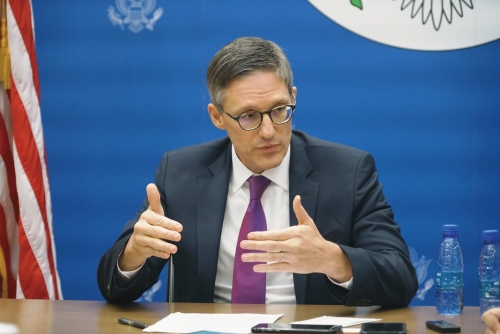 Bahrain vital partner in security, trade: Chollet
TDT | Manama
The Daily Tribune – www.newsofbahrain.com
Reported by Ashen Tharaka
Bahrain occupies a prominent position in the US foreign policy as it remains a vital partner in a multitude of spheres encompassing security, trade, education and other areas, said US State Department Counselor Derek Chollet.
Mr Chollet was speaking to a group of reporters representing the Kingdom's various news outlets at the US Embassy when he made this remark. "The US will function as a strong partner with Bahrain in confronting the external threats.
The crucial step taken by Bahrain, other Arab states and Israel by signing Abraham Accords along with the Negev Forum is a great milestone in the history of the Mideast." Mr Chollet hailed the Kingdom's leadership and government for successfully holding the parliament and municipal council elections.
He said the people-to-people relationship has been one of the most important pillars of the bilateral ties between the US and Bahrain. He said the US has no plans to take a U-turn from its Mideast policy, terming such narratives as unsubstantiated.
"We are here in a significant way not only in defence but also in other aspects. The specifics of our defence policy could change from time to time but that doesn't mean an absolute reversal of initiatives. We will continue to have a robust presence in the region."
Speaking to The Daily Tribune, Mr Chollet said the US foreign policy is not at all aimed at containing China. "There are many key concerns regarding some aspects of Chinese foreign policy, their intent and behaviour. I want to make it clear that we don't seek a Cold War. The relations between the US and China are complicated. There are many areas where there are differences, on the other hand, we hope to work with them over many issues, for instance, global warming."
When asked about the upcoming Arab-China summit in Saudi Arabia, Mr Chollet said China can't provide the kind of regional security architecture, which the US is building for the Mideast region. Mr Chollet said the Iranian role in the Russia-Ukraine conflict is a matter of grave concern.
"Russia has invaded a sovereign nation and they want to make Ukraine a cold and dark place. All of their targets are civilians and see the way Russians are destroying Ukraine's power grid." Earlier yesterday, National Security Adviser and Royal Guard Commander, Major-General HH Shaikh Nasser bin Hamad Al Khalifa received Mr Derek.
HH Shaikh Nasser praised the level of cooperation between Bahrain and the US and affirmed the effectiveness of the strategic partnership as well as commitment to consolidating the foundations of security and peace in the region.