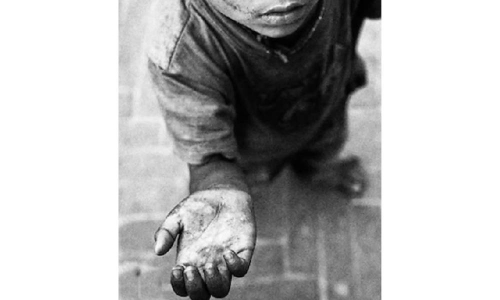 Bahrain to adopt measures to tackle rising number of beggars
TDT | Manama
The Daily Tribune – www.newsofbahrain.com
Staff Reporter
Immediate measures along with awareness drives will be in place to end begging across the streets of Bahrain, according to a top official.
The move comes amid rising concerns about the rising number of beggars in many areas and neighbourhoods.
Brigadier Muhammad bin Dina, Director General of the General Administration for Information and Security Culture, said "awareness drive will be carried out across the Kingdom as we are witnessing an increase in the reporting of cases of begging".
The rising number of beggars is fast becoming an inconvenience to the citizens and residents across the streets of the Kingdom. A large number of beggars, mainly women carrying children, are seen begging for alms, most often annoying the public.
Sources said they even enter shops, asking for money from shopkeepers as well as customers across Manama and Gudaibiya. They added that the number of beggars would be increasingly found across the streets during the beginning of the month as it is the time when people receive their salaries.
"Begging cases can be reduced with the cooperation of all members of society. It is the responsibility of all members to address such matters." As part of the clampdown, police have been arresting many beggars, mainly expatriates, for begging in the streets as part of the efforts to curb the act of begging.
"We call upon citizens not to support begging and report such cases to the police for legal action to be taken. Community efforts are also needed to combat this negative phenomenon," the police directorate said.
A surge in beggars was witnessed across the Kingdom during this year's Holy Month, becoming an inconvenience to the citizens and residents, most often annoying them. Earlier, commenting on the matter, Dr Anna Mostafa, a leading psychologist in the Kingdom, had said: "There could be psychological factors for begging; perhaps the individual's mental and cognitive capacity may play a role.
Perhaps, they are unaware of the resources available to them by charities and shelters set in place to support them." Dr Anna also stressed the significance of rehabilitation. "Public awareness campaigns and increased efforts at disseminating information of available services to police, mosques, public transport and other areas where people gather could be beneficial."
Begging is legally prohibited in the Kingdom and offenders face imprisonment and fines. "Dar Al Karama" has been taking care of beggars and the homeless. It is a governmental social institution affiliated with the Ministry of Labour and Social Development, Department of Social Welfare. It is concerned with the provision of care and different services for first-time beggars and homeless people.