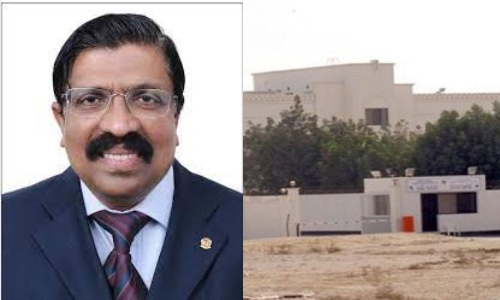 Nearly 8,000 Indian citizens jailed abroad, half of them in Gulf countries, 178 in Bahrain
TDT | Manama
The Daily Tribune – www.newsofbahrain.com
Staff Reporter
A total of 178 Indian expatriates are either serving their various sentences or under-trials in Bahrain jails, according to the latest available statistics with the Indian External Affairs Ministry.
There are 1,570 Indian expatriate prisoners in Saudi Arabia followed by the UAE (1,292), Kuwait (460), Qatar (439) and Oman (49).
There are close to 8,000 Indian nationals jailed abroad and half of them are in Gulf countries, according to the statistics.
Speaking to The Daily Tribune, Dr Babu Ramachandran, the Chairman of the Indian Community Relief Fund (ICRF) said that Bahrain's government has been putting in its best efforts to ensure the best humane treatment of prisoners.
ICRF is a non-government, non-profit organisation working under the patronage of the Indian Ambassador for the general welfare of Indian workers in Bahrain.
ICRF would regularly conduct prison visits before the pandemic struck Bahrain.
"The Kingdom has one of the world's best prison systems in the world.
All requirements of prisoners are being attended, matching the best of world standards.
We have been earlier conducting regular prison visits that have to be stopped following the pandemic outbreak.
"We are hopeful that ICRF teams will be able to resume jail visits again once the pandemic is brought under absolute control."
Dr Babu, who is also a physician at American Mission Hospital Bahrain, said mental depression dominates all health disorders faced by Indian expatriate prisoners.
"It is quite natural for inmates to suffer from mental depression.
During the visits, we have noticed that most of them want to speak with us about their backgrounds and families.
"ICRF mainly offers legal assistance to Indian expatriate prisoners apart from offering to counsel and serving a link between the inmates and their family members.
Before the pandemic season, we would serve special food and offer telephone cards to them.
"Other major illnesses among inmates are diabetes, hypertension and respiratory disorders."
Alternative sentencing Dr Babu hailed the government's efforts to improve the lives of inmates as well as the introduction of alternative sentencing.
Bahrain's government has already announced further alternative sentencing reforms to modernise its sentencing framework.
Now all prisoners are potentially eligible for alternative sentencing unlike in the past when only prisoners who served one-and-a-half years of the custodial sentence were eligible.
Under the new system, all adults sentenced to imprisonment will become eligible for their cases to be dealt with by alternative sentencing, even before the commencement of any sentence of imprisonment.
Alternative sentences may include community service, home detention, exclusion orders, non-contact orders, electronic tagging, rehabilitation programmes or compensation.
The reforms will see more offenders serving their sentences in the community and a review of existing prisoners for transfer to alternative sentencing and early release.
Alternative sentences will be considered by the Courts on application by the prosecution and upon being satisfied that the offender does not pose a risk to the public.