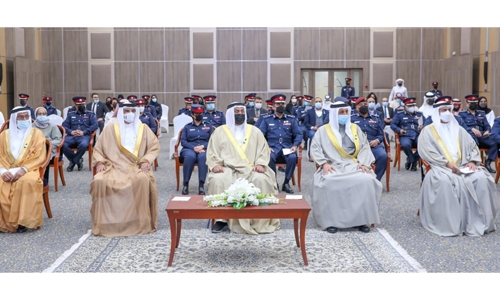 Bahrain Interior Ministry marks International Human Rights Day
TDT | Manama
The Daily Tribune – www.newsofbahrain.com
The Interior Ministry held a seminar on "Human Rights in the Interior Ministry, the Vision and Reality" yesterday marking the International Human Rights Day celebrated every year on the 10th of December.
The event included a presentation on human rights accomplishments and projects by Interior Minister General Shaikh Rashid bin Abdullah Al Khalifa to promote human rights culture and values among Interior Ministry's affiliates.
The seminar was under the patronage of Interior Ministry Undersecretary Shaikh Nasser bin Abdulrahman Al Khalifa.
Assistant Undersecretary of Legal Affairs Brigadier Hamood bin Saad Hamood highlighted the contributions of Bahrain in the development of human rights and humanitarian values laws.
He shed light on the works of Interior Ministry personnel in protecting general safety with proficiency amid the COVID-19 outbreak.
The Head of Human Rights Team Captain Khalid bin Ibrahim Al Khalifa highlighted the formation of the Human Rights Committee led by the Undersecretary as part of efforts to promote various human rights aspects.
Human Rights Team

The team in 2021 created 12 periodic reports, responded to 21 requests and complaints and sent 80 messages to foreign organizations.
He said the team held training courses and awareness lectures for 783 officers, 1678 others and 588 civilian employees.
Diploma courses
The Royal Academy of Police also introduced a Human Rights Diploma and sent officers to prestigious universities for human rights courses.
A total of 140 officers took part in 19 courses abroad from 2011 to 2020.
Captain Al Khalifa highlighted the procedures taken by the Interior Ministry during the COVID-19 pandemic, including vaccination of inmates, virtual calls between inmates and their families.
First-Lt. Nasser Al Rumaihi highlighted the alternative penalties projects.
He revealed that 3714 individuals, including 3164 men, 242 women and 308 in the age group 16 to 21, benefited from the alternative penalties since its implementation in 2018.