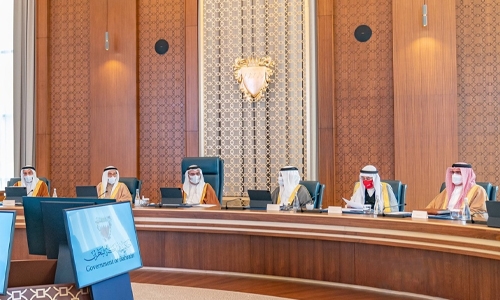 Bahrain ministerial committee to follow up on $32 billion strategic economic recovery plan, new $30 billion investment projects
TDT | Manama
The Daily Tribune – www.newsofbahrain.com
Bahrain continues significant progress on economic recovery under the shadow of the coronavirus (COVID-19) pandemic.
The Cabinet, during its weekly meeting chaired yesterday by His Royal Highness Prince Salman bin Hamad Al Khalifa, the Crown Prince and Prime Minister, assigned the Ministerial Committee for Financial and Economic Affairs and Fiscal Balance to follow up on the Economic Recovery Plan's Strategic Projects Plan, the value of which exceeds $32 billion.
The Committee was also tasked with following up on new investment projects worth more than $30 billion.
These projects include the construction of new cities, business and industrial areas, and projects related to the infrastructure, tourism, industrial, educational, health, housing, youth, and sports sectors. Likewise, to support the aims of the Economic Recovery Plan, the Cabinet affirmed its commitment to organising and hosting additional conferences that enhance Bahrain's contribution to the exhibition and conference industry.
The Cabinet highlighted the success of the Jewellery Arabia Exhibition 2021, held under the patronage of HRH the Crown Prince and Prime Minister, noting that it was well organised and received a high turnout. It also reviewed a report detailing the organisation and attendance of the exhibition.
Bahrain and Brazil bilateral cooperation
The Cabinet noted the outcomes of the discussions held by His Majesty King Hamad bin Isa Al Khalifa, with Brazilian President Jair Bolsonaro, and their importance in strengthening bilateral cooperation.
It highlighted that the agreements and memoranda of understanding signed during the visit of the Brazilian leader will enhance coordination and cooperation between the two countries across the investment, political, and cultural fields and the organisation of joint events.
The Cabinet also noted the speech delivered by HM King Hamad when receiving senior participants in the 17th edition of the Manama Dialogue, which affirmed the Kingdom's commitment to peace and discussion that enhances regional and global security and stability.
The Cabinet commended the participation of foreign dignitaries and representatives at Manama Dialogue, which is a testament to the international community's commitment to achieving security and stability that will lead to further progress and development.