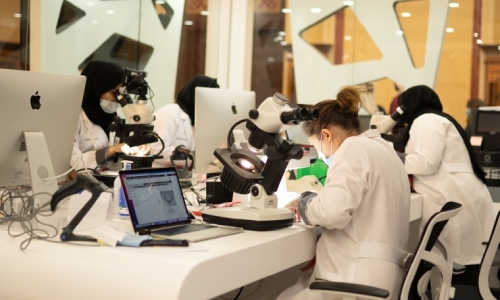 DANAT concludes Jewellery Arabia participation on a high note
TDT | Manama
The Daily Tribune – www.newsofbahrain.com
The Bahrain Pearl & Gemstone Institute (DANAT) said that over five days, more than 500 jewels and gemstones were examined in its pavilion at the Jewellery Arabia Exhibition.
The institution gave certifications to the owners that included information about the item, its weight, shape, purity level, and whether or not it had been treated, providing jewellery purchasers at the show great confidence in their valuables.
DANAT Institute stated that visitors tried over a thousand oysters provided to the visitors with the goal of enriching their experience in dealing with oysters, as well as getting the pearl that may be inside.
Visitors to the Jewellery Arabia exhibition received valuable information, instructions, and advice about precious stones, how to examine and evaluate them, and other important information from the DANAT team, which included a group of the most prominent pearl and gemstone specialists in Bahrain, the region, and the world, supported by the rest of the team members from the Institute's cadres who rose with the mission of introducing DANAT laboratory as the best laboratory of its kind around the world.
DANAT CEO Noora Jamsheer said that this year participation was extraordinary citing the outstanding outcomes. "Since the Institute's inception in 2017, we have been eager to participate in the Jewellery Arabia show. We are happy to have become one of the exhibition's most essential foundations of success, as well as a main destination for visitors looking to gain confidence in their precious stone purchases from the numerous participating firms and jewellery houses."
She affirmed that DANAT confirms its success in achieving the goals for which it was established through this fruitful and continuous participation both inside and outside Bahrain, the most important of which is the consolidation of the Kingdom's leadership as an international destination for extracting and trading pearls and precious stones, which contributes to supporting efforts to diversify sources of income and develop the national economy.