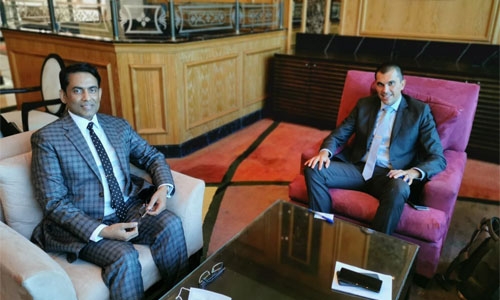 Cyprus: A diverse, family-friendly Mediterranean destination
By P Unnikrishnan
The Republic of Cyprus has taken major strides in vastly developing its tourism industry over the past 18 months, and has successfully done so despite the challenges posed by the COVID-19 pandemic, says Deputy Minister of Tourism Savvas Perdios.
In an exclusive interview with TDT, Perdios highlights that the eastern Mediterranean island has worked on creating "a more resilient tourism industry" that is a reflection of the times and that can cater to all kinds of travellers.
He admits that his country's tourism sector, like everywhere else in the world, has taken a big hit because of the coronavirus crisis, but that hasn't stopped them from looking towards the future and bolstering everything Cyprus has to offer to the world. "The pandemic is here, it's been a disaster for tourism, but there will be the day when the pandemic finishes, and we need to make sure we show up in a different way," Perdios told TDT.
"We cannot come out of this pandemic in the same way we went in. We have worked a lot over the past 18 months to be able to deliver something new to travellers that is COVID-proof, and that is in line with how the new tourism is going to look. "I think we have done a very good job of that."
Perdios is currently in Bahrain on an official visit during which he aims to promote Cyprus' recent tourism achievements while also meeting with the Kingdom's high-ranking officials to further develop bilateral relations for the benefit of tourism for both island nations.
He explained that Cyprus' tourism ministry built on three main pillars in their planned expansion of the sector. The first was developing the country's rural and mountain areas, which he described as the focal point of their product. "We have noticed that people want to move towards the rural areas, they want to meet the locals and mix with them, and want to have these kinds of experiences," he said. Perdios said that the second pillar was improving Cyprus' infrastructure especially in special-interest tourism.
"We have added a couple of marinas and integrated a casino resort and entertainment, which is going to be great for many markets," he explained. "Our golf courses are now of international standard—we have one of the biggest PGA golf tournaments in the Cyprus Open. "We have improved facilities in diving centres and hiking trails, and we have been adding shelters in the forest so that people can backpack or go with their bike.
"We have been improving accessibility to cultural sites for people with mobility problems, improving the quality of our beaches and taking away plastic sunbeds and replacing them with more natural, wooden sunbeds and umbrellas." The Cypriot deputy minister then explained that the third pillar was utilising funding received from the European Union from its recovery fund in order to build "a more resilient tourism industry—an industry which is more competitive, greener and more digital".
"We are using some of that money to improve health, wellness and medical facilities in hotels, to renovate restaurants that are serving Greek cuisine, changing the chairs, the frontof-house for customers, and renovate shops that sell traditional products that are handmade in Cyprus," he enumerated.
"We are using the money as well to create authentic experiences within the destinations, and giving funds for the renovation of agrotourism and hotel facilities in the mountains. "A lot of money is being invested, not only on mega projects, but also in the more boutique, smaller-style accommodations and businesses.
"Ultimately, the whole point of all of this is Cyprus has realised that tourism is changing." Perdios expressed his country's enthusiasm in welcoming visitors from Bahrain in the near future, stressing that Cyprus is a very family-friendly destination where travellers from Bahrain don't need to quarantine anymore.
"We have been attracting families to Cyprus for 40 to 50 years; it is a very safe destination, very diverse, very tolerant," he said. "I think Cyprus has a good future from a tourism perspective."