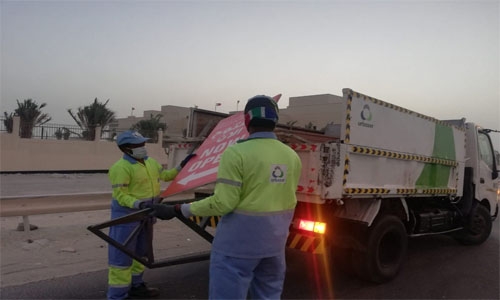 Clean-up campaigns against violations on Bahrain's public roads and buildings
TDT | Manama
The Daily Tribune – www.newsofbahrain.com
The Municipality of the Southern Region, in cooperation with the Municipal Council, the Monitoring and Inspection Department, and the Cleaning Services Follow-up Department, carried out more than 2,000 campaigns to remove violations in the first half of the year from January to June 2021.
During the inspection campaigns, about 348 building violations, 256 road occupancy violations, 864 advertisements and posters that distorted the urban appearance of residential areas and neighbourhoods, 22 street vendors, 90 dilapidated properties, 81 shared housing, 46 scrap cars, four abandoned vehicles and boats, and 241 dead animals were removed.
In all residential and commercial complexes, these violations were monitored and their conditions corrected. The municipality stressed the need to initiate the necessary licence before commencing the implementation of any work related to housing or shops, in order to avoid taking the necessary measures regarding them with removal. It stressed that it will not tolerate the application of laws and requirements applicable to violators in order to preserve the prestige of the law and to preserve the general appearance and urban character of the areas and residential neighbourhoods.
Article (2) of Law No. (2) of 1996 concerning the occupancy of public roads, states that "it is not permissible, without a license from the Ministry of Housing, Municipalities and Environment, to occupy the public road in a horizontal or vertical direction, and in particular with the following: Occupation resulting from excavation, construction, demolition and paving works, laying pipes and wires above or below the surface of the earth, or making openings.
In the sidewalks and the like, leaving movables outside the shops, factories, warehouses, or homes except for the shortest period necessary to carry out loading or unloading and provided that traffic is not obstructed, and placing shelves, carriers of goods, umbrellas and the like, and placing goods."