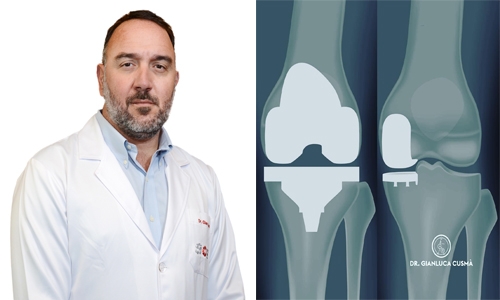 Rare knee surgery performed at Royal Bahrain Hospital
TDT | Manama
The Daily Tribune – www.newsofbahrain.com
When Mr Saleh, age 38, walked into the office of Dr Gianluca Cusmà Guatteri, Consultant – Orthopedics at the Royal Bahrain Hospital, with severe knee arthritis secondary to congenital deformity, only one thing surfaced his mind – will I be able to walk freely without any pain?
For a condition like this, a normal approach would be total knee replacement, explains Dr Gianluca, considering the ultimate aim of the surgery would be to realign the limb. "However we evaluated the possibility of partial knee replacement and were weighing our chances should Mr Saleh was to pursue the same. Which he ultimately did."
Dr Gianluca further explains that partial knee replacement or unicompartmental knee replacement (UKR) is a minimally invasive surgery in which only the damaged compartment of the knee is replaced with an implant. Usually, this procedure is done for people who have arthritis in a specific area of their knee and only that area is replaced through a smaller cut, unlike total knee replacement. Also, this procedure is performed without touching the ligaments, tendons and muscles.
Talking about the recovery rate, Dr Gianluca says, Mr Saleh was able to stand up and take small walks on the same day and was later seen taking slightly longer walks on the hospital floor. "In few weeks Mr Saleh will be able to not just walk but run as well without facing any difficulty or pain."
UKR is a small but at the same time very demanding surgery and is usually done by surgeons who have reached extreme proficiency. Dr Gianluca, who has performed more than 500 UKRs in the past 5 years in Italy, tells us that there is a lot of innovation in the type of implant as well. In fact, Dr Gianluca has also designed and patented a UKR implant that is made of titanium and Vitamin E polyethylene to avoid allergies, minimize oxidation and wearing off with an estimate of the 20-year life of the implant.