Bahrain administered two million doses protecting 69.4% of total population with at least one dose
TDT | Manama
The Daily Tribune – www.newsofbahrain.com
Bahrain yesterday achieved the Covid-19 vaccine milestone six months since launching its national campaign last year to inoculate its citizens and residents.
Two million doses have been administered, protecting 69.4% of the total eligible population against the coronavirus with at least one dose of the six vaccines made available for free.
The Health Ministry made the announcement through its official Twitter account, saying: "The Ministry of Health: Today marks 6 months from the launch of the National Vaccination Campaign, with 2 million vaccination doses administered, protecting 69.4% of the total population with at least one dose."
At the current pace of vaccination, the whole eligible population in the Kingdom can be vaccinated by the end of this year or early next year.
The Kingdom's mass vaccination efforts aim to inoculate a total of 1.5 million residents, around 712,000 of them are Bahrainis and 679,000 expatriates and provide them with a high degree of protection against the deadly virus.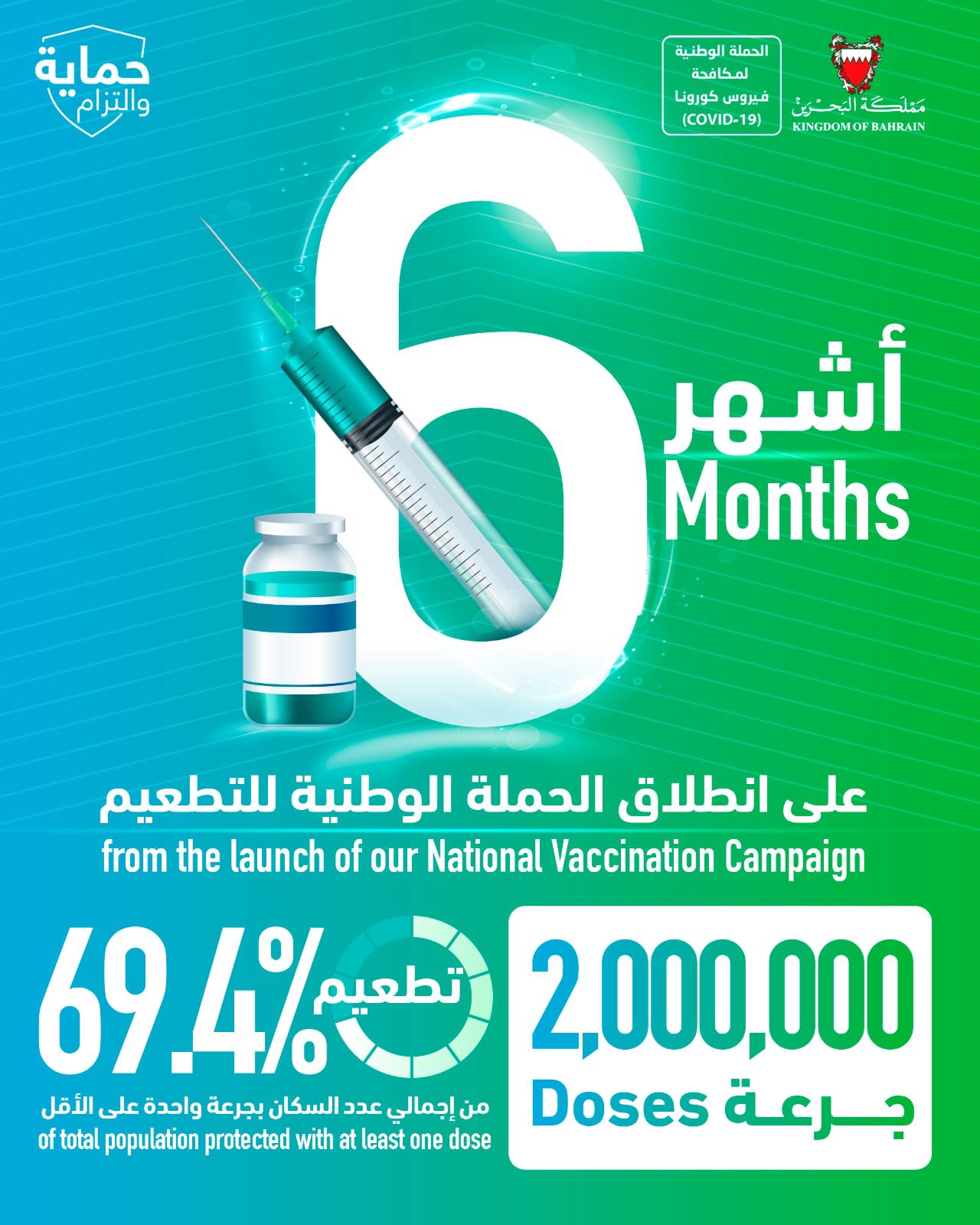 The Ministry earlier said it had increased its daily vaccination capacity to 31,000 doses across its 31 vaccination centres in a bid to further reduce the current wave of infections. It is also expanding the vaccination campaign to include adolescents aged 12 to 17.
The steady decline in the number of new cases and casualties being recorded since last month is attributed largely to the country's successful vaccination efforts and strict implementation of health preventative and precautionary measures.
Over the last three weeks, the average number of new infections reported each day in Bahrain – one of the world's vaccination leaders – has fallen by more than 2,300, 79% of its previous peak, with about 653 new infections reported on average each day.
There have been 262,892 infections and 1,306 coronavirus-related deaths reported in the country since the pandemic began. Official Health Ministry figures show that as of last night, 1,043,787 have received at least one shot of one of six free vaccines made available for citizens and residents, namely Sinopharm, Pfizer/BioNTech, AstraZeneca's Covishield, Johnson & Johnson, Sputnik V and Sputnik Light.
Subsequently, 899,514 people have now had both doses of a vaccine and completed the two-week period after the second dose for immunity development.