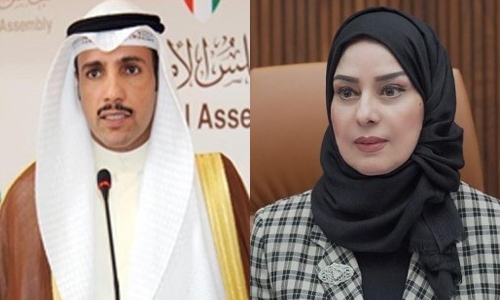 European Parliament resolutions against Bahrain 'lack objectivity and credibility'
TDT | Manama
The Daily Tribune – www.newsofbahrain.com
The European Parliament's solutions against Bahrain lack objectivity and credibility as they tend to ignore the Kingdom's big strides in protecting human rights. This was emphasised by Representatives Council Speaker Fawzia bint Abdullah Zainal as she discussed Arab issues with Kuwaiti National Assembly Speaker Marzouq bin Ali Al Ghanim over the phone yesterday.
She also criticised the European Parliament for relying on unofficial information aimed at tarnishing the Kingdom's image and belittling its pioneering human rights experience.
Speaker Zainal stressed the development of the human rights system in Bahrain in light of the noble royal care and directives of His Majesty King Hamad bin Isa Al Khalifa and the tireless efforts of the government, led by His Royal Highness, Prince Salman bin Hamad Al Khalifa, the Crown Prince and Prime Minister.
She highlighted the issues discussed with the Kuwaiti National Assembly Speaker which will be raised at the meeting with the European Parliament President. She stressed rejection of the Representatives Council of the inaccurate and biased stances adopted by some members of the European Parliament, calling anew to evaluate the human rights situation in Bahrain with utter impartiality.
Zainal emphasised the need to further boost Arab-European relations and the exchange of experiences in vital areas, including sources of sustainable and renewable energy.
She stressed the importance of the issue as a top priority in the policies of the Arab and Gulf countries, in light of the national endeavours to increase renewable energy sources.
The Speaker affirmed support to the Arab efforts aimed at backing the Palestinian issue and the Palestinian people to obtain their legitimate rights according to the two-state solution, the Arab Peace initiative, and the relevant resolutions of the international legitimacy.
She also touched on the ongoing talks regarding the Iranian nuclear issue, stressing the importance of taking into consideration regional and international worries about the Iranian nuclear programme and ensuring the way of handling this issue does not harm the interests of the Arab countries.
The Speaker wished Al Ghanim every success in the meetings he will hold as a representative of the Arab Inter-Parliamentary Union and in coming up with positive results to achieve the interests of the Arab countries.