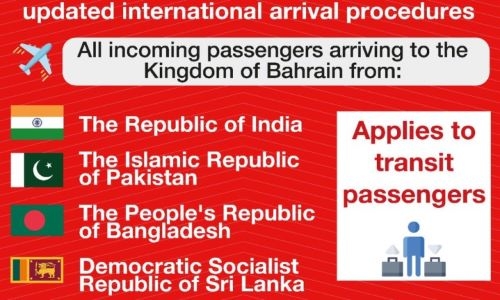 Bahrain updates travel procedures for passengers from Sri Lanka
TDT | Manama
The Daily Tribune – www.newsofbahrain.com
The National Medical Taskforce for Combating the Coronavirus (COVID-19), today announced updated procedures for travellers arriving from the Democratic Socialist Republic of Sri Lanka to the Kingdom of Bahrain via Bahrain International Airport, starting from Monday, 03 May.
All travellers arriving from Sri Lanka to Bahrain, including those in transit who are 6 years old and above, must present a certificate confirming the result of a negative COVID-19 PCR test containing a QR code within 48 hours of the time of departure. This is in addition to undergoing another PCR test upon arrival, and on the 5th and 10th day of stay, if residing in the Kingdom during that period.
The Taskforce noted the importance of activating the 'BeAware Bahrain' application for all arrivals through Bahrain International Airport, with the signing of a health declaration form pledging to comply with the health procedures and regulations issued by the Ministry of Health, which includes self-isolating until a negative PCR test is reported.
The Taskforce stated that careful monitoring of epidemiological data continues to inform decision making, aimed at safeguarding the health of all.