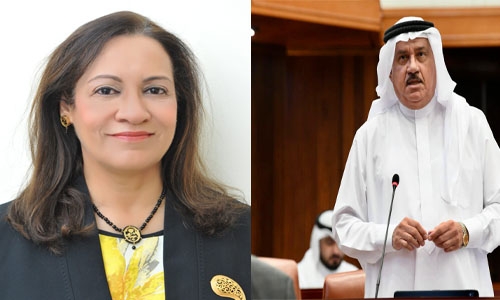 Bahrain determined to fight violence against women
TDT | Manama
The Daily Tribune – www.newsofbahrain.com
Bahrain is committed to eliminating violence against women and all forms of discrimination including, domestic violence, Bahraini parliamentarians told an international parliamentary strategic dialogue.
The parliamentarians also told the Inter-Parliamentary Union that the Kingdom has a National Strategy for the Protection of Women from Domestic Violence.
The move came as Dr Ibtisam Muhammad Saleh Al-Dalal, the chairman of the Women and Child Affairs Committee of the Shura Council, and Ahmed Mahdi Al-Haddad, the Human Rights Committee chairman, took part in the International Parliamentary Strategic Dialogue on Violence against Women and Girls during Corona.
Dr Al-Dalal and Al-Haddad confirmed that the Kingdom had taken many steps to end domestic violence.
Bahrain, they said, maintains a database and statistics to monitor and follow up domestic violence cases through an advanced electronic platform. "This programme has enabled the authorities to follow up the cases and give victims access to health, psychological and social services provided by state institutions.
Dr Al-Dalal and Al-Haddad also told the meeting that the programme works to strengthen the national strategy for advancing Bahraini women 2013-2022. "It will assist Ministry Interior officials, civil society organisations, and media partners in combating domestic violence."
The Supreme Council for Women headed by Her Royal Highness Princess Sabeeka bint Ibrahim Al Khalifa, Wife of His Majesty the King, launched the National Strategy for the Protection of Women from Domestic Violence.
They also pointed out that the National Strategy complies with the seventeen goals for sustainable development. "This strategy is designed to secure and promote the rights of Bahraini women, combat all forms of violence against them, and meet the requirements of Bahraini women. (2013-2022) and strengthening family and community contact."
The meeting discussed the contributions made by Bahraini women in combating the deadly pandemic, with the National Taskforce for Combating the Coronavirus (COVID-19), and at the front lines.