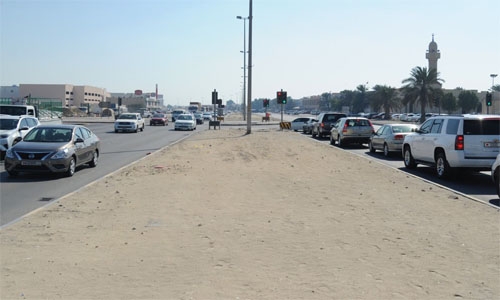 Sheikh Jaber intersection development on cards
TDT | Manama
The Daily Tribune – www.newsofbahrain.com
The Ministry of Works, Municipalities Affairs and Urban Planning announced launching a tender for developing the intersection of Sheikh Jaber Al-Sabah Street with Street 1 - Sitra in the Capital Governorate.
The project enhances the street and reduces waiting time at the intersection by creating an additional lane to turn left from Sheikh Jaber Al-Ahmad Al-Sabah Street towards Street 1.
The project envisages increasing the length of the storage lane, and separate vehicles turning left. Plans are also on the anvil to develop ground channels for future use, improve street lighting, instal traffic signs and signboards.
The project is as directed by His Royal Highness Prince Salman bin Hamad Al Khalifa, the Crown Prince and Prime Minister, Fadhel Al-Sawad, the representative of the Eighth District in the Capital Governorate, said.
As of the now, the flow of vehicles exceeds the street's carrying capacity, he said.
Dr Abdul Wahid Al-Nakal, a member of the Capital Municipality, said the intersection is one of the main entrances to Sitra Island and "Street No. 1 is the main artery that carries traffic between the villages of the island."
"This development will enhance the importance of Street No. 1, especially for being a commercial street," he added.