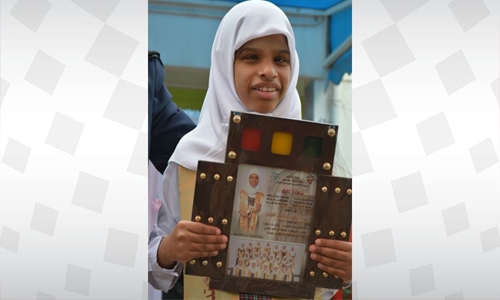 Zainab is the success story of a visually impaired Bahraini student
TDT | Manama
The Daily Tribune – www.newsofbahrain.com
Zainab Al Momen, a visually impaired student, said that she was determined not to let her blindness stand in her way to achievements and successes.
The student at Sitra Girls' Secondary School has been among the top achievers, driven by her inner strength, a deep belief in her capabilities and great support from family and school.
"Acceptance is the basis of success, as I was able to prove myself among the students and form many friendships," she said.
"My friends always help me with reading and all the things I need, and I see in my presence and that of other students in my conditions in integration schools a bright and helpful idea because it provided us with strength and self-pride. I personally regularly achieved high scores and top rankings."
The teachers' gentle understanding and generous assistance have helped her with easing herself into lessons, providing motivation and ironing out obstacles, she added.
"God has blessed me with deep insights and a strong drive towards acquiring knowledge and fast comprehension," Zainab said.
She added that she was passionate about Japanese and that she was learning the language from various sources.
Zainab is among the students with special needs who have been integrated into the Ministry of Education schools to avail of greater opportunities ad better chances for learning.
The Ministry of Education is committed to the policy of not leaving anyone behind and to providing all people the chance to learn and to hone their academic aptitudes, a ministry official said.
It provided genuine care through the policy of integrating government schools at all levels of education and ensured the necessary means, tools and human resources with a high level of qualification and professionalism, the official added.