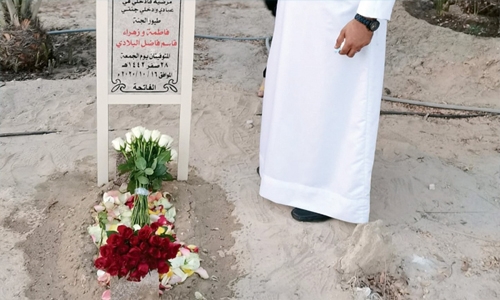 Bahrain court sentences doctors to prison in twins' death
TDT | Manama
The Daily Tribune – www.newsofbahrain.com
The three doctors being linked to the death of new-born twins Fatima and Zahra have been found guilty of manslaughter and negligence.
One of them, a Bahraini male doctor, was slapped with a three-year jail sentence, while the two female doctors, Bahraini and Indian, got 12 months imprisonment.
They, however, secured temporary freedom after posting BD1,000 bail each pending the outcome of their appeals.
A nurse was acquitted due to insufficient evidence against the defendant.
An investigation was carried out after the Bahraini father had claimed that he was handed over his dead premature babies by Salmaniya Medical Complex (SMC) "in bags", only to find out that they were still alive at the time of their burial in Bilad Al Qadeem graveyard in the Capital Governorate.
A document he shared online showed that the shocking incident took place on October 16 last year, a day after the delivery.
A report from the hospital read that the man brought back the babies on the same day he received them.
The report mentioned that one of the babies was dead when the father came back to the hospital, while the other one died at the neonatal intensive care unit a few hours later.
Issued by the Chief of Medical Services at SMC, the report read: "The patient came to SMC on October 15, 2020 at 8 pm, and she was in a state of abortion at 22 weeks of pregnancy, and the result was two new-borns. After examining them by the medical staff, they found at the time that there were no signs that they were alive and they were handed over to the father on October 16, 2020 at 9.30 a.m."
The report also mentioned: "On the same day, the father brought the new-borns to SMC, and after examining them by the medical staff, it was found that one of them was dead and the other was making a crying sound. The new-born was admitted to the neonatal intensive care unit for premature infants, but she passed away on the same day at 9:30 pm."
Swift action
A press statement was soon issued by the Health Ministry, quoting Government Hospitals Acting CEO Dr Ahmed Al Ansari, who affirmed that an investigative committee was immediately formed after being notified about the incident.
"A special investigation committee was formed under the chairmanship of Chief of Medical Services at SMC Dr Nabeel Al Asheeri, in accordance with the Civil Service Law. A doctor was suspended from working at SMC until the completion of the investigation committee's work," Dr Al Ansari confirmed.
The official emphasised that the necessary legal measures will be taken against whoever is found to be in default according to the results of the investigation committee, adding that the investigation is being carried out in cooperation with the Health Ministry and the National Health Regulatory Authority (NHRA), under the direct supervision of the Supreme Council of Health. Dr Al Ansari added: "Providing distinguished services to the visitors of SMC and all government hospitals and maintaining the health and safety of everyone is a permanent priority. "It is not possible to be lenient or hesitant in taking what is required against those who fail to perform the tasks entrusted to them, in accordance with the approved medical procedures and standards."