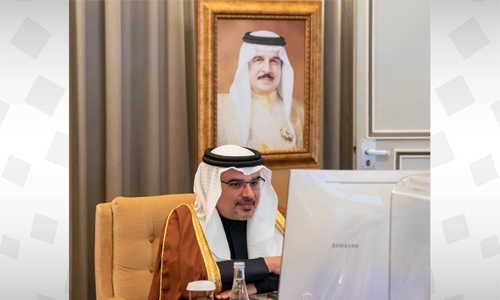 Cabinet directs Interior Ministry to work on 'immediate release' of citizens detained in Qatar
TDT | Manama
The Daily Tribune – wwwnewsofbahrain.com
The government has directed the Interior Ministry to take necessary steps for the immediate release of all citizens detained by Qatar, including the most recent incident involving Bahraini international bodybuilding champion Sami Al Haddad and his companions.
In yesterday's weekly meeting, held remotely and chaired by His Royal Highness Prince Salman bin Hamad Al Khalifa, the Crown Prince and Prime Minister, the Cabinet emphasised that the security and safety of Bahraini citizens is a top priority and rejected any violations against them.
The Cabinet also followed up on the measures taken by the Interior Ministry to assess the damages suffered by Bahraini seafarers affected by the actions taken by the Qatari authorities, in order to compensate them.
Al Haddad, an IFBB Pro bodybuilder and the amateur winner of the international bodybuilding contest Mr Olympia in 2011, and his friends were arrested by the Qatari authorities on Saturday when they were on a fishing boat.
In a statement on Sunday, the Foreign Ministry demanded Qatar to immediately release Al Haddad and his companions and to stop attacking Bahraini fishermen at sea and unfairly arresting them.
Interior Minister General Shaikh Rashid bin Abdulla Al Khalifa said last month that Qatar targeted 2,153 Bahraini citizens and 560 Bahrain-registered boats from 2010 to 2020.
Last week, Bahrain and five other Gulf Cooperation Council (GCC) countries including Qatar signed a reconciliation agreement during the 41st GCC Summit held in the Saudi Arabian city of Al Ula.
The Cabinet also stressed the importance of the Bahrain International Airport expansion project in reinforcing Bahrain's position as a primary centre for logistic services and a regional travel hub.
HRH the Crown Prince and Prime Minister directed work to continue towards beginning operations on 28 January, thanking all relevant authorities and personnel involved in this significant project.
On the occasion of the 24th anniversary of the establishment of the National Guard, the Cabinet praised the National Guard as a key component of the Kingdom's armed forces and acknowledged its competence, readiness and dedication to service.
The Cabinet praised the accomplishments of the Kingdom's diplomatic corps in enhancing Bahrain's regional and international standings and relations through a balanced approach to foreign policy on the occasion of Bahraini Diplomacy Day on 14 January.
Meanwhile, the Cabinet offered its condolences to the government and people of Indonesia and to the families of the victims of the fatal passenger airplane crash.
The Cabinet congratulated the Kingdom of Saudi Arabia under the leadership of the Custodian of the Two Holy Mosques, King Salman bin Abdulaziz Al Saud and His Royal Highness Prince Mohammed bin Salman bin Abdulaziz Al Saud, Crown Prince, Deputy Prime Minister and Minister of Defense on the success of the 41st GCC summit meeting recently hosted by the Kingdom.