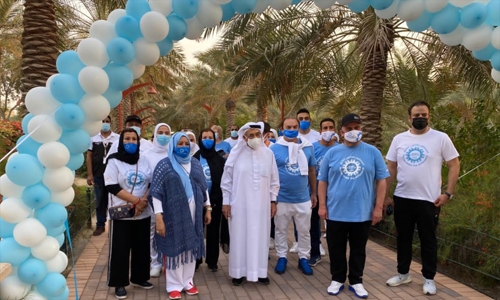 Bahrain marks World Diabetes Day
TDT | Manama
The Daily Tribune – www.newsofbahrain.com
Bahrain Diabetes Society held a virtual marathon remotely, under the patronage of Supreme Council for Health (SCH) President Lieutenant-General Dr Shaikh Mohammed bin Abdulla Al-Khalifa.
The Ministry of Health, Bapco and other societies, civil society institutions and individuals also took part in the virtual sporting event via Zoom application, which was held online for the first time in the Kingdom of Bahrain Lt. Gen. Dr Shaikh Mohammed bin Abdulla Al-Khalifa, also Bahrain Diabetes Society Chairman, said that the King joined the other countries and health organisations to mark the World Diabetes Day, which falls on On November 14. The 2020 is being held this year under the theme "The Nurse and Diabetes".
He stressed Bahrain's keenness on celebrating the World Diabetes Day, and enhancing people's awareness to prevent them from the disease and protect diabetic patients from dangerous complications.
He stressed the importance of the 2020 theme which recognizes the active role of nurses in caring for diabetic patients and supporting them.
Health Minister Faeqa bint Said Al-Saleh said that the world is witnessing a steady increase in the incidence of non-communicable chronic diseases, including diabetes, noting that in the Kingdom of Bahrain, the National Health Survey indicated that about 15% of those surveyed have diabetes.
She stressed the ministry's keenness to provide the best safe and effective health care for patients with diabetes, through specialized diabetes clinics in health centres and endocrine clinics in secondary care.
She underlined programmes for early detection of diabetes complications and the provision of specialists to treat complications from various specialities such as cardiovascular, kidney and ophthalmic and nerve systems.
She expressed thanks to Bahrain Diabetes Society, chaired by Lt. Gen. Dr Shaikh Mohammed bin Abdulla Al-Khalifa, for organizing the virtual marathon marking the World Diabetes Day.