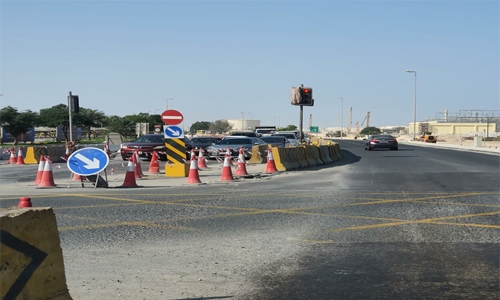 BD 9.3 million King Hamad street project near completion
TDT | Manama
The Daily Tribune – www.newsofbahrain.com
The construction works of King Hamad Street development project has entered its final stages, said the Ministry of Works, Municipalities Affairs, and Urban Planning.
The project, which expands the street into a three-lane, covers its intersection with the 96th street to that with Askar.
Asphalting and paving works of the street are currently ongoing, the ministry said.
According to the ministry, the project requires the closure of the paths, which is mostly being carried out during the weekends when there is minimal traffic movement compared to weekdays.
Works include the construction of a rainwater drainage network, construction of an open canal along the western side of King Hamad Street, paving roads in the applicable layers to the asphalt layer, the development of sidewalks, placing lighting poles, traffic lights and installation of safety barriers on both sides of the road.
Works are also progressing to build a concrete barrier separating the ways to raise the level of traffic safety.
The tender board awarded the BD9,200,297 project to a consortium of KCC Engineering and Contracting and Nass Contracting.