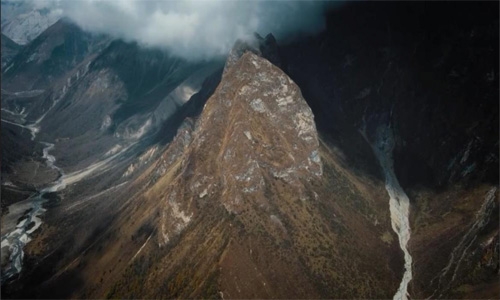 Nepal rename mountain 'Royal Bahrain peak'
TDT | Manama
The Daily Tribune – www.newsofbahrain.com
The remarkable feat of conquering Manaslu, the eighth-highest mountain in the world, by Bahrain's Everest team, has landed yet another honour for Bahrain. To honour the achievement, authorities in Samagaon have renamed a mountain there in honour of His Majesty King Hamad bin Isa Al Khalifa and His Highness Shaikh Nasser bin Hamad Al Khalifa.
The renamed 'Royal Bahrain peak' is 5200m, 17000ft, above sea level. On their way to Manaslu - 8,163 meters above sea level, the 15-member Bahraini team scaled Mt Lobuje East, which is above 6,119 metres above sea level to acclimatise with the conditions. The climb was also the first summit achievement for a mountaineering team in the autumn season.
The Everest team
According to Himalayan Times, members of the royal expedition team included British nationals Richard Warren McConnel, Phillip Clough and Christopher Anthony. The Bahraini nationals in the summit team included Ebrahim Mohamed Abdulla Ebrahim Mohamed, Mohamed Ali Jasim Ahmed Alboainain, Arafat Hamood Naji Ghurbah, Ebrahim Khalil Ebrahim Zayed Mohamed Aljazzaf, Ahmed Said Ahmed Isa Alkabbi and Arif Feroz Shah Murad Qalunder Ghulam.
The other Bahraini citizens in the team included Mohamed Adul Rahman Yusuf Alkawari, Khaled Ali Hasan Ebrahim Hasan Aldossery, Abdulaziz Rafea Abbar Khalaf Alabed, Khaled Sultan Mohamed Abdulla Alsheerwai, Murad Mohamed Yusuf Abdul Sayed, Ebrahim Ali Salem Jaber, Saud Hamad Mubarak Hamad Eid and Mohamed Isa Abdulla Yusuf Alqais. The 18-member Royal Guard was assigned by HH Shaikh Nasser to raise the flags of Bahrain and the Royal Guard on the summit of Mount Manaslu, one of only 14 mountains in the world to exceed 8,000 meters, and known as the deadly mountain in the world of climbing. More than 50 sherpas also took part in the expedition.
Next stop is the Everest
Next stop for the Bahrain mountaineers is the Mount Everest, which they would attempt to scale in the spring of 2021. Nepal halted its expedition activities in March as COVID-19 spread in the Himalayan nation, which reopened making way for the Bahrain team to achieving the success.