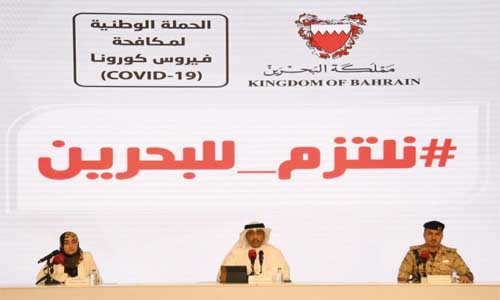 Rapid COVID tests soon in Bahrain : results can be known in 15 minutes
TDT | Manama
The Daily Tribune – www.newsofbahrain.com
Rapid coronavirus (COVID-19) tests in which results can be known within 15 minutes will soon be made available to the public, it was announced yesterday.
Health Ministry undersecretary Dr Waleed Al Manea said that the tests will be offered at local hospitals, both public and private, and will be sold at pharmacies across the Kingdom so that they can be done within the privacy of one's home.
Dr Al Manea was speaking at the press conference of the National Taskforce for Combatting COVID-19 held at the Crown Prince Centre for Training and Medical Research at the Bahrain Defence Force Hospital.
He said that the recent launch of the rapid tests was in line with global developments. An individual will need to take a nasal swab, and an accurate result, which is similar to that of a COVID-19 polymerase chain reaction (PCR) test, will be available in 15 minutes, without the need of a lab analysis.
Dr Al Manea said that this type of testing is quick, practical and economic, but it is not a replacement for the PCR test. He added that more than 7,000 rapid tests have been conducted so far in Bahrain, and that the Health Ministry was coordinating with the Education Ministry to have students tested, as part of the health and safety procedures that are being put in place to ensure their safe return to in-class learning.
While these details of the rapid tests were revealed, it was not announced exactly when they will be made available or how much the test would cost, if purchased from a local pharmacy.
Dr Al Manea said that the rapid testing will play a significant role in reducing the spread of the virus by massively increasing testing in a short-period of time, particularly with the return to in-person teaching at public schools and private nurseries on October 25.
Dr Al Manea also announced that indoors dining at all restaurants and cafes in Bahrain would resume on October24 after being disallowed for nearly seven months due to the pandemic.
However, only a maximum of 30 people will be allowed inside the premises at a given time and all precautionary measures are to be strictly followed.