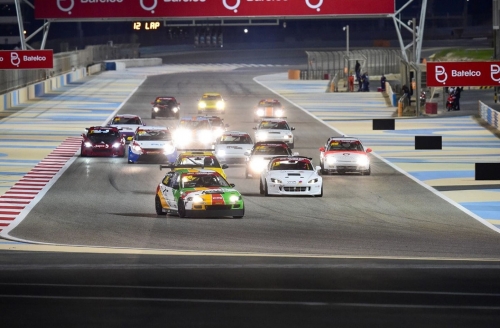 Excitement kicks off at the Bahrain International Circuit on the National Racing Day
MANAMA
The first activities of the 2020-2021 season and the first rounds of the National Racing Day will be launched on the Bahrain International Circuit "the home of motorsports in the Middle East" on Friday evening, October 2, with the launch of the local championship "Bahrain International Circuit 2000 CC Challenge".
The activities start on the National Racing Day from 4 pm and the excitement and races continue until 10 pm, and it is certain that the first round will witness great excitement and wide participation, and given the current health situation there will be no public attendance and entry to the Bahrain International Circuit will be limited to the contestants, their teams, and those concerned only.
The National Racing Day kicks off, organized by the Bahrain International Circuit, the Bahrain Automobile Federation and the Circuit Racing Club.
The most prominent participants in the 2000 CC Challenge Championship in its first-round are Raed Hamo, Majed Hamo, Raed Rafeei, Sheikh Hamad bin Isa Al Khalifa, Sheikh Salman bin Isa Al Khalifa, Sheikh Abdullah Al Khalifa, Martina Al Qassab, Ramzi Al Qassab, Nasser Al Alawi, Giovanni Salino, Andres Bello, Weepy Bello, Tariq Al Tajir, Samer Ghazwan, Khaled Al Rayes, Ali Al Toplani, Ahmed Al Ghatim.
Last season, Ahmed bin Khanin was crowned champion of the championship last season, Bahrain International Circuit Challenge 2000cc, bin Khanin won his first-ever title in the 2000 CC Challenge, and the Saudi driver finished the highly competitive season eight points behind his closest Bahraini competitor Raed Rafei. While he got 14 points in the championship standings for the former champion Sheikh Salman bin Isa bin Ibrahim Al Khalifa in third place overall.
Bin Khanin scored 206 points in six of seven rounds during the season, where he participated in the professional category with his Honda Civico EG4. He managed to win first place from 12 races and was on the podium five more times.
Sheikh Salman added another medal to his third place, where he won the most starting places from first place four times and scored the fastest lap in the whole season in one minute and 16,450 seconds on the indoor circuit.