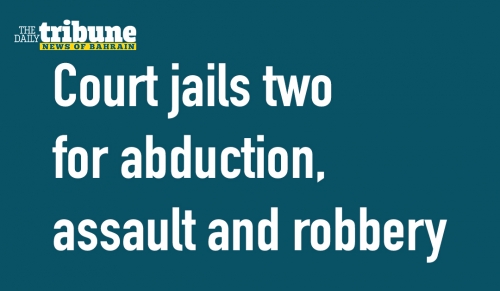 Court jails two for abduction, assault and robbery
TDT | Manama
A Bahraini court jailed two expatriate men to three years for abducting, assaulting, and stealing from an expatriate man. The Fourth High Criminal Court also ordered to deport the convicts, after completion of their prison terms.
The police had charge-sheeted the suspects for abduction and assault based on information provided by the victim, who remained hospitalized for 20 days with injuries all over his body following the attack. Court files say the attackers came in a white jeep and demanded the victim to show his identity card, introducing them as police officers.
They then forcefully took the victim to his house and the backyard of one of the buildings there. The main suspect took the victim's wallet and BD175 in it, while his accomplice snatched the victim's mobile phone. They then took the victim to their vehicle and assaulted him physically demanding more money.
Public Prosecution told the court that the accused and the co-accused transported the victim in their vehicle and left him near a hotel, after forcefully taking his mobile phone and money in the wallet. The attack was so intense that the victim was left bedridden in a hospital for more than 20 days with multiple injuries and attack marks all over his body.