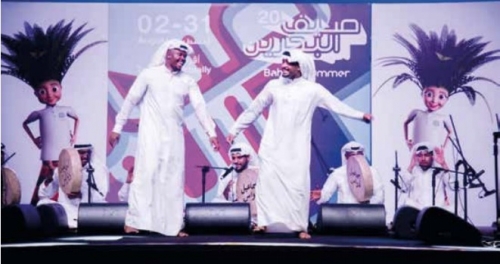 Bahrain Summer Festival gets underway
TDT | Manama
This year's Bahrain Summer Festival was launched last night during an opening ceremony featuring the authentic Bahraini melodies and tunes of Ismail Dawas Band. The event was held in the parking lot of the Qal'at al Bahrain site museum and held in the presence of Bahrain Authority for Culture and Antiquities (BACA) General Culture and Arts director Shaikha Hala bint Mohammed Al Khalifa.
The concert was broadcast live on Bahrain TV and on the CultureBah channel on YouTube. This year's Bahrain Summer Festival is its 12th edition. Organized by the BACA, it is being held under the theme "Together Virtually", and it is scheduled to continue until August 31.
The annual festival has become one of the most anticipated events locally and regionally due to its reputation of sensational line-ups of live shows and multi-cultural family-friendly entertainment, filled with diverse performances along with artistic activities, educational and creative workshops.
Other activities during the first week of the festival include shows by Mohammed bin Faris Band on Thursday at 7pm and Gen Rosso the same evening at 8pm, and then a show by Ningxia Performing Arts Group on Friday at 7pm. For more information, visit bahrainsummer.bh.