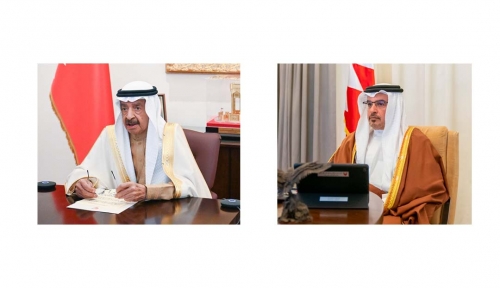 TDT | Manama
The Cabinet approved yesterday a number of initiatives aimed at mitigating the impact of the coronavirus (COVID-19) They include paying 50 per cent of the salaries of insured Bahrainis in the most-affected private sector companies for three months, shouldering the electricity and water bills of all Bahraini subscribers for their primary residences for the same three-month period, and the Labour Fund (Tamkeen) supporting the most-affected economic sectors.
These initiatives are in line with the directives of His Majesty King Hamad bin Isa Al Khalifa to unify national efforts to confront the repercussions of the pandemic at the local level, and to protect the health and safety of citizens and residents, along with the continuity of the Kingdom's programmes to enhance the sustainable development march.
They are also in line with the decisions of the government, led by His Royal Highness the Prime Minister Prince Khalifa bin Salman Al Khalifa, and the national efforts, led by His Royal Highness Prince Salman bin Hamad Al Khalifa, Crown Prince, Deputy Supreme Commander and First Deputy Premier, to combat COVID-19 in Bahrain.
The approvals came during the Cabinet's regular weekly session yesterday, chaired by HRH the Prime Minister and attended by HRH the Crown Prince. Based on its consultations with the legislative branch and the Bahrain Chamber of Commerce and Industry (BCCI), and according to their visions, the government's decision to pay half of the salaries of insured Bahrainis in the most-affected private sector institutions, starting from July, is in accordance with terms and conditions to be set by the Labour and Social Development Ministry, and in coordination with relevant authorities.
The payment of electricity and water dues of all Bahraini subscribers from July for three months is based on their bill not exceeding that of the same period last year. Tamkeen's support for the most-affected economic sectors in Bahrain is in accordance with the terms and conditions that will be approved by its Board of Directors.
Following the government's announcement of the new initiatives, Minister of Finance and National Economy Shaikh Salman bin Khalifa Al Khalifa commented: "We review our necessary and targeted economic interventions on an ongoing basis, always ready to make adjustments or take additional steps, where we anticipate emerging pressures or particular sector requirements.
"This additional package of measures announced today will further reduce pressure on householders and families across the Kingdom, at the same time as supporting the many jobs of those employed in the private sector, as their employers continue to respond to the unique economic challenges posed by COVID-19.
"Our COVID-19 response objectives remain unchanged— to protect the health and employment of our citizens, and the long-term strength of our economy. "Until such time as we can return Bahrain to delivering strong and sustainable economic performance and growth, the Government remains committed to early, targeted and effective economic intervention and support."