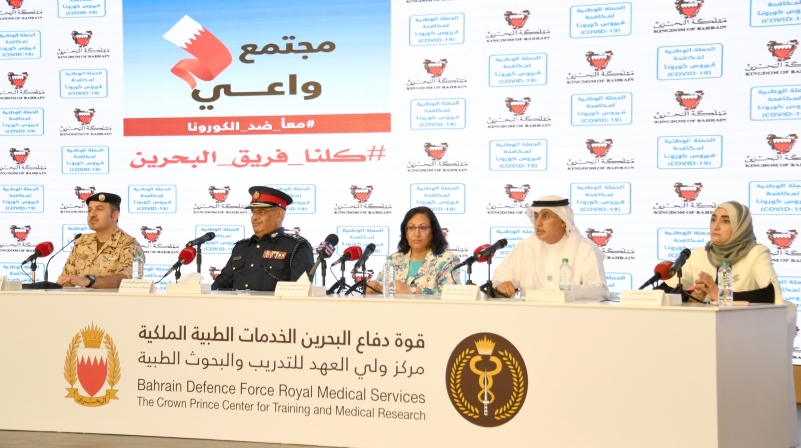 Bahrain's health authorities conducted 105365 coronavirus tests
TDT | Manama
Bahrain has surpassed yet another milestone in its fight against Coronavirus (COVID-19) outbreak by testing more than 100,000 of its citizens and residents here in a bid to slow down transmission. As of yesterday, this number has been increased by 5,365 to reach 105,365 tests. In the past 24 hours, the Ministry of Health conducted 5,334 tests to detect 289 more active cases, thereby bringing the total number of active cases in the Kingdom to 1385. Of the newly confirmed cases, 212 are expatriate workers, 63 are contacts of active cases, and 14 are travel-related cases from abroad. In a statement on its Twitter handle, the Ministry of Health said it also conducted tests at the residence of the expatriate workers in several regions as part of pre-emptive measures to prevent the spread. "Early detection of COVID-19 cases among expatriate workers and quarantining contacts of new cases expedite treatment and strengthens precautionary measures established to safeguard the health of citizens and residents," the statement added.
31 more recover
The Ministry statement said that 31 more have recovered from their illness, and taken out of isolation, yesterday bringing the total number of people recovered from COVID-19 infection here to 1113. The Kingdom recorded its first COVID-19 case on 21 February 2020 when a school bus driver coming from Iran via Dubai was tested positive to Coronavirus (COVID-19) infection. Now the global death toll of COVID-19 stands at more than 195,000, with total confirmed cases surpassing 2,800,000. More than 775,000 people have recovered from the infection. In Bahrain, the virus has claimed over eight lives, with the majority of them being passengers arriving from Iran. Though the case fatality rate (CFR) — the proportion of deaths from a certain disease compared to the total number of people diagnosed with the disease for a certain period - is found to be much lower than the SARS of 2003, the transmission rate and the death toll of COVID-19 are significantly greater. Reports say, most people infected with the COVID-19 virus are experiencing mild to moderate respiratory illness and is recovering without requiring special treatment. Older people and those with underlying medical problems like cardiovascular disease, diabetes, chronic respiratory disease, and cancer are more likely to develop serious illness. At this time, there are no specific vaccines or treatments for COVID-19. However, many ongoing clinical trials are evaluating potential treatments. As a possible treatment, Bahrain is testing the use of anti-malarial drug hydroxychloroquine for treating COVID-19 patients, as various studies are still progressing to determine the effectiveness of the drug.
HCQ shipment from India
Bahrain recently received a shipment of Hydroxychloroquine from India, the world's biggest manufacture of HCQ, which is touted by US President Donal Trump as a "game-changer" in the fights against COVID-19. In France, the anti-malarial drug is being used in combination with azithromycin, an antibiotic typically prescribed for bacterial pneumonia. HCQ is generally prescribed as a treatment for rheumatoid arthritis, lupus and malaria. In Bahrain, the drug is part of the Kingdom's treatment protocol for active COVID-19 patients. Lt. General Dr Shaikh Mohammed bin Abdullah Al Khalifa, the head of Bahrain's coronavirus task force, earlier in a statement to BNA said that hydroxychloroquine is effective in "alleviating the symptoms of the virus and reducing its complications." It was reported that doctors in Bahrain first used the HCQ for treated the virus on February 26.
Use only at hospitals
Meanwhile, the US Food and Drug Administration yesterday cautioned against the use of malaria drugs, hydroxychloroquine and chloroquine, in COVID-19 patients outside of hospitals and clinical trials, citing risks of serious heart rhythm problems. The FDA has allowed healthcare providers to use the drug for COVID-19 through its emergency use authorization, but the drug is not approved to treat the disease. The heart rhythm risks may increase when the medicines are combined with other drugs, such as antibiotic azithromycin, as well as in patients with existing heart and kidney disease, the agency said yesterday.
More measures
Further keeping up its fight, Bahrain extended its lockdown measures from April 23 to May 7, which includes closing all cinemas, sports centres, gyms, salons, and restricting restaurants operations to food delivery and takeaway only, among other measures. In most Middle Eastern countries, there are strict nighttime curfews in line with social distancing requirements which were initially extended into Ramadan.
It pains me: Saudi King
Saudi Arabia's King Salman, in a statement published by the state news agency SPA, said, "It pains me that we are starting this month under circumstances that prevent us from praying together in the mosques." Salman also praised health workers, security personnel, soldiers at the borders and all those working amid the pandemic and thanked them for their "great work." In Saudi, +1,172 new coronavirus cases were recorded yesterday, bringing the total number of cases there to 15,102. There are now 12,926 active cases in the kingdom of which 93 are in critical condition.
UAE reopens malls
UAE, meanwhile, reopened malls, cafes and restaurants and eased lockdown restrictions on the occasion of Ramadan. The curfew will be from 10 pm to 6 am while malls will be allowed to operate for 10 hours daily starting from midday on Friday, the first day of the Muslim fasting month, an official statement cited by the state-run WAM news agency said. Supermarkets, food outlets, groceries and pharmacies will be allowed to operate round the clock, but mosques will remain shut during the holy month, the statement said. Dubai was the only emirate among the seven sheikhdoms making up the UAE that imposed a total curfew while the rest had restricted movement at night. UAE has reported 9,281 cases of coronavirus and 64 deaths. Kuwait has also revised it curfew hours for Ramadan while warning that legal action will be taken against violators. The new curfew hours are from 4 pm to 8 am for Ramadan. Widespread rules have been imposed in Oman banning praying in mosques or meeting relatives and friends for large "iftar" meals at dusk.