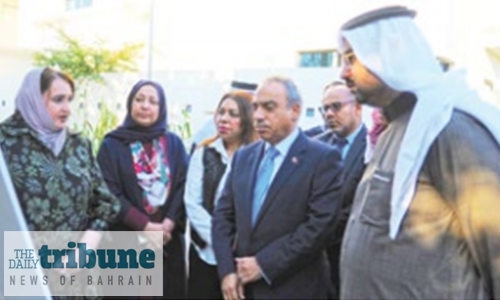 Works Ministry launches service development projects
Following directives from His Royal Highness Prince Salman bin Hamad Al Khalifa, the Crown Prince, Deputy Supreme Commander and First Deputy Prime Minister, the Works, Municipalities Affairs and Urban Planning Ministry has launched a series of service development projects, in co-operation and co-ordination with the Council of Representatives.
The projects aim to improve the quality of municipal services across the Kingdom, which will contribute to achieving the goals of the comprehensive development march spearheaded by His Majesty King Hamad bin Isa Al Khalifa.
In this regard, Works, Municipalities Affairs and Urban Planning Minister, Essam Khalaf, paid an inspection visit to the Block 360 roads development project in Zinj, along with MP Ahmed Al Salloum.
The minister said that the project includes the rehabilitation of roads 6023, 6025, 6026, 6013 and 6015, in addition to Avenue 66, noting that a rainwater drainage network will be set up there. It also includes paving the 6021, 6017 and 6018 roads, in addition to providing low sidewalks and installing road signs to ensure traffic safety, he said.
The minister added that the project had been put out to tender by the Tender Board at a cost of BD 707,196, and that procedures are being taken to award the project in preparation for the start of the implementation process.
Meanwhile the Avenue 66 development project and the addition of parking lots in the available spaces are still under study, he said.