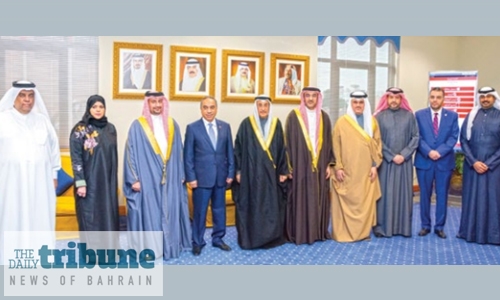 Monitoring system launched to tackle municipal violations
Shaikh Khalid bin Abdullah Al Khalifa, Deputy Prime Minister and Chairman of the Ministerial Committee for Development and Infrastructure Projects, yesterday launched an internal system to monitor and follow-up all types of municipal violations. The system provides an integrated database about violations and checks the status of the existing ones where the inspectors are through an electronic portal and smart devices.
The launch comes amidst the Ministerial Committee approving the "mobile monitoring system" and its application across all municipalities after it was confined to the capital during the trial phase. During the inauguration at Gudaibiya Palace, Shaikh Khalid expressed thanks to all the people involved in designing the system that will provide several unprecedented services and enhance municipal work.
He directed that the system be made available to all ministries and government entities that include inspection. "The government, headed by His Royal Highness the Prime Minister, and supported by His Royal Highness the Crown Prince, Deputy Supreme Commander and First Deputy Premier has a special interest in raising the efficiency and effectiveness of the public sector through reviewing and updating the engineering and government services and their integration between the authorities, and strengthening oversight accountability and transparency, in compliance with the provisions of the government's Action Programme (2019-2022)," Shaikh Khalid said.
"Among these operations are municipal inspection systems that alert about violations before they happen, which reduces the occurrence of violations as much as possible. They also ensure the proper implementation of the law in case they do happen," he said at the inauguration ceremony.
These systems used to be traditionally managed, and required entering data and details after monitoring violations in different locations, he added. "Thanks to modern technologies and innovations, the tasks of inspection and monitoring are more accurate and achieve the highest degree of compliance with laws and regulations," Shaikh Khalid added.