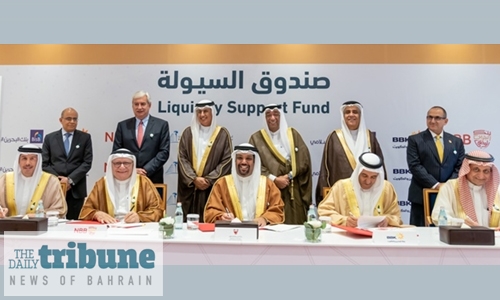 Liquidity Support Fund: 176 applications received
As many as 176 applications have been submitted by larger enterprises within the Kingdom to benefit from credit facilities provided by the Liquidity Support Fund. The applications will be reviewed and processed to ensure all eligibility conditions and credit evaluations are fully met before each application proceeds further.
The banks associated with the Liquidity Support Fun will also analyse each companies need for these credit facilities in order to pay off short term obligations and ensure its financial stability. Credit application requests for larger enterprises are capped at BD one million and BD 250,000 for SMEs, with a loan period of 2.5 per cent interest rate for up to three years.
In order to qualify, the applicant Large Enterprises are required to have an annual income of BD three million or above, hold an active commercial registration and have been actively operating within the Kingdom for the past five years. Additionally, applicants must have majority Bahraini ownership and be able to retain audited financial statements for the previous four fiscal years, including the fiscal year 2018, possess positive solvency resolution and a positive gross profit margin for any three years within the five year period.
If these criteria are met, a bank cooperating with the Fund will financially support the rewarded company. The banks co-operating with the Liquidity Support Fund are: National Bank of Bahrain, Bank of Bahrain and Kuwait and Bahrain Islamic Bank. The application window for Small and Medium Enterprises (SMEs) with an annual income below BD three million, remains open until 19 March 2020.
Applications for SMEs can be submitted to the Bahrain Development Bank (BDB) at the following branches: Sitra Mall, Riyadat Center, Diplomatic Area and Hidd Industrial area. Applicants do not need to have an account with the BDB bank in order to apply or qualify.
For SMEs to qualify, they must meet certain application criteria, including: holding an active commercial registration; maintaining a minimum of 51 per cent Bahraini ownership; commercial activities operating in Bahrain; no requests for reorganisation or liquidation according to the Kingdom's bankruptcy law; financial statements available for the fiscal year 2018; and a positive gross profit margin for one of the past three years.