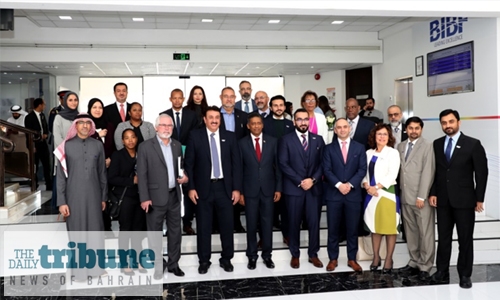 Seychelles president hails Bahrain visit as promising, historic
Seychelles President, Danny Faure, yesterday expressed his delight in visiting Bahrain which he said shares many "commonalities" with Seychelles being an Island nation.
"This is a very good visit, a historic one and we are happy to be here," Faure told Bahrain News Agency. He was visiting the Bahrain Institute of Banking & Finance (BIBF). Describing Bahrain and Seychelles as "two Island nations", he said, "the future of relations and cooperation between Bahrain and Seychelles look promising."
On Wednesday, His Majesty King Hamad bin Isa Al Khalifa and Faure reviewed bilateral relations and cooperation mainly in the economic, trade and tourism fields. Agreements were signed for exempting visa requirements for holders of diplomatic, private and official passports as well as enhancing general cooperation.
Besides, a Memorandum of Understanding was signed by the Central Bank of Bahrain and the Central Bank of Seychelles, and another on cooperation in tourism. During the BIBF visit, Faure was briefed on Bahrain's expertise in the economic and the financial and banking sectors.
On environmental issues, Faure stressed that Bahrain and Seychelles face common challenges. "We will work together, and in terms of our development as countries, we will continue to develop." Faure and his delegation attended a banquet hosted in their honour by His Royal Highness Prime Minister's Advisor HH Shaikh Salman bin Khalifa Al Khalifa.
HH Shaikh Salman stressed the importance of exchanging visits between senior officials to expand the prospects of cooperation and achieve common interests. Separately, Faure, accompanied by Foreign Affairs Minister, Shaikh Khalid bin Ahmed Al Khalifa, visited the Bahrain National Museum and the Bahrain National Theatre.
Upon arrival, he was welcomed by the Bahrain Authority for Culture and Antiquities (BACA) President, Shaikha Mai bint Mohammed Al Khalifa, and senior officials. The delegates were informed about the Bahrain National Museum's role in hosting artistic and cultural events, wide-ranging sections, artefacts, collectables and history of Bahrain since the Dilmun Civilisation.
The Seychelles President also paid a visit to the 46th Bahrain Annual Fine Art Exhibition, opened yesterday under the patronage of His Royal Highness Prime Minister Prince Khalifa bin Salman Al Khalifa, at the Bahrain National Museum and the Bahrain National Theatre. He also visited the Bahrain National Theatre and was informed about its cultural achievements.