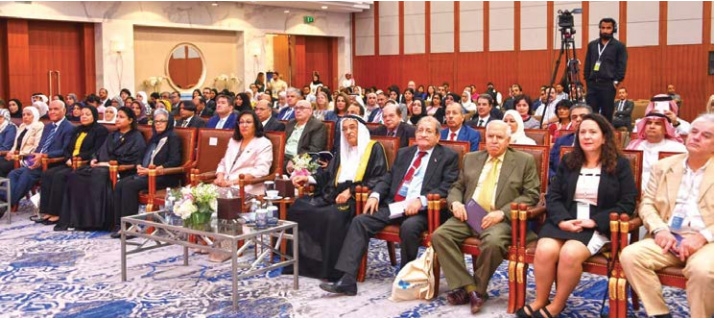 'Tackling cancer cases, one of Health Ministry's top priorities'
Her Royal Highness Princess Sabeeka bint Ibrahim Al Khalifa, Wife of His Majesty the King, President of the Supreme Council for Women and Honorary President of Bahrain Cancer Society (BCS), yesterday delegated Health Minister Faeqa Al Saleh to open the third Combined Gulf Cancer Conference, (CGCC) which began yesterday at the Gulf Hotel. The Health Minister said at the opening ceremony of the conference, which was attended by President of the Supreme Council of Health (SCH) Lt General Dr Shaikh Mohammed bin Abdullah Al Khalifa, that the event represents an opportunity to further upgrade health services for cancer patients and back the efforts of the Gulf countries to ensure prevention and early detection of the disease. She stressed the importance of awareness to curb the disease, alleviate the burden of its treatment and lower the death toll resulting from it, in line with the main goals of the Gulf Cancer Strategy 2016-2025.
A major initiative aimed at the early detection of colon cancer was launched recently. King Hamad University Hospital, in co-operation with the Ministry of Health and the National Committee for Control of Chronic Noncommunicable Diseases, has launched the initiative with an aim to curb the rising number colon cancer cases in the Kingdom. The National Campaign for Early Detection of Colon Cancer, which is being held under the slogan "Towards Curability", caters to citizens aged between 45 and 75. "The early detection will help aid the chance or recovery as well as reduce the financial strain of treating the patients. When discovered at a later stage, the chances of recovery reduces while financial strain is much higher," said Dr Omar Sharif, Consultant for Gastrointestinal Diseases and the Head of Internal Medicine Department at King Hamad University Hospital (KHUH). He said that KHUH is capable and ready for the campaign and may recruit new staff including doctors, nurses surgeons, technicians to facilitate the campaign.
"We will make available the latest technology and devices for this campaign," he said. Anti-cancers campaigns are also being carried out by many civil society groups. The "Smile" initiative of the Future Youth Association, which provides psychosocial support to children with cancer in the Kingdom, has announced the launch of the sixth edition of its awareness campaign "Our Children as Gold", in order to spread awareness of childhood cancer among various segments of society. The President of the Association, Sabah Abdul Rahman Al Zayani, revealed that the campaign was launched with a recreational activity for the heroic kids of "Smile" on the occasion of returning to schools, and will continue for a whole month. "This year will witness a great development in the campaign, in terms of establishing a real partnership with various public and private sectors wishing to participate in the campaign and support child cancer patients in the Kingdom of Bahrain," Mr Al Zayani said.