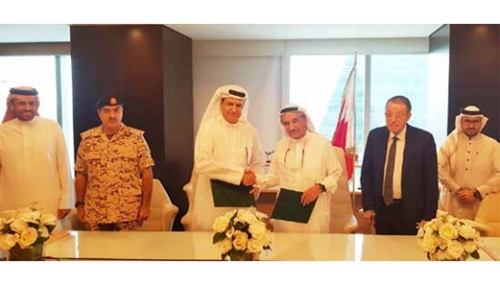 Cardiac centre gets IT power
An agreement was signed yesterday to enhance the capabilities of Mohammed Bin Khalifa Bin Salman Al Khalifa Cardiac Center Project with the latest information systems and technologies used by health facilities worldwide. The move, in line with the digital transformation process in Bahrain, will make Mohammed bin Khalifa bin Salman Al Khalifa Heart Specialist Center, currently under construction in Awali, the first of its kind project in Bahrain.
The agreement was signed at the headquarters of the Supreme Council of Health with NGN Global Partnership, under the patronage of Lieutenant General Doctor Sheikh Mohammed bin Abdulla Al Khalifa, the President of the Supreme Council of Health. The project is funded by the Abu Dhabi Fund for Development (ADFD) as part of the Gulf Support Programme for Development Projects in the Kingdom of Bahrain.
On this occasion, the Mohammed Bin Khalifa Bin Salman Al Khalifa Specialized Heart Center thanked Field Marshal Sheikh Khalifa bin Ahmed bin Salman Al Khalifa, Commander-in-Chief of the BDF for his unlimited support. The IT network in the centre will be one of the fastest-growing networks in the world, with the data servers using vsophisticated technologies, combining the possibility of tangible and virtual servers, in addition to linking the entire work environment with cloud computing.
The centre will also be equipped with other advanced technologies related to the management of patients and doctors in the hospital. Alternative IT systems will be available to ensure business continuity in various internal and external emergencies. The signing ceremony was attended by Dr Risan Al-Badran, Director of the Cardiology Center, Assistant Director of Military Works Brig.
Dr Abdullah Rashid Al-Tamimi, Shaikh Khalid Bin Hamad Al Khalifa, Chief Technical Officer of Sehati Project, Abdullah Eid, Assistant Director of the Center for Administrative and Financial Affairs, Nawaf Mohammed Abdul Rahman, Director of Information Technology, and Yaccob Al Awadhi, CEO of NGN.