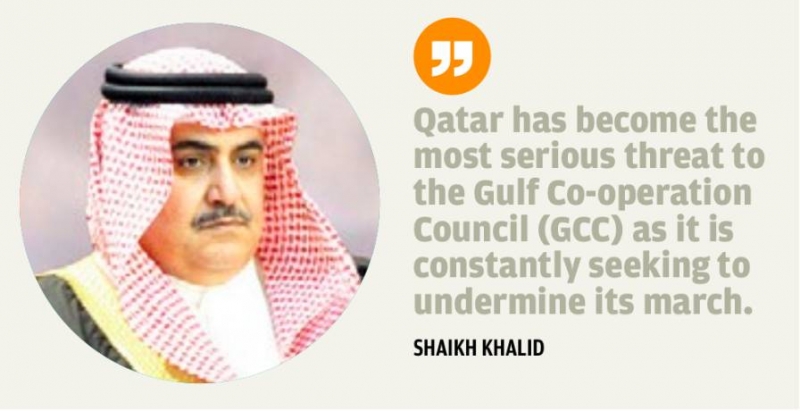 Al Jazeera documentary reflects Qatar regime's 'conspiracy against Kingdom'
Foreign Affairs Minister, Shaikh Khalid bin Ahmed bin Mohammed Al Khalifa, has stressed that the documentary titled "The Hidden is more Immense", aired by the Qatar-based Al Jazeera satellite channel last night, was filled with "clear and blatant lies and fallacies". "It is the latest episode in a series of conspiracies staged by a rogue state against the Kingdom of Bahrain, and the security and stability of the entire region," the minister said.
"This affirms, beyond any doubt, that this country has become the most serious threat to the Gulf Cooperation Council (GCC), as it is constantly seeking to undermine its march, foment strife among its countries and sow divide among its peoples," the Foreign Minister added.
The Foreign Minister stressed the need for the GCC countries to "confront this country's hostile practices and irresponsible conduct, and to take all resolute measures to deter it and compel it to respond, in a transparent manner, to the just demands of the boycotting countries and implement the agreements it had signed". "This would preserve the GCC, and maintain its achievements, as well as help attain further development, prosperity, and progress for the best interests of its countries and peoples," the Foreign Minister added.
A few days ago, Information Affairs Minister Ali Al Romaihi rapped the same channel for carrying out false news and programs blatantly targeting the Arab countries and peoples. "Al Jazeera channel made several attempts to contact me and other officials in the ministry from unidentified telephone numbers, which is against media ethics.
"They tried to record the conversations without their official consent. And the channel also attempted to provoke officials in the ministry using despicable methods."