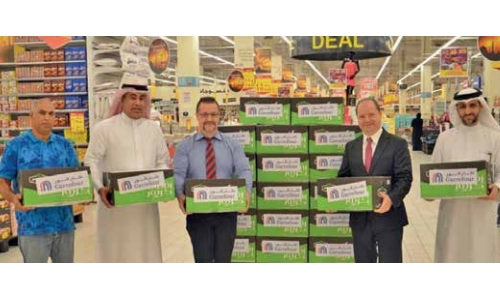 Carrefour celebrates Ramadan with donation drive
Carrefour, which is operated in Bahrain by Majid Al Futtaim yesterday announced its partnership with The Bahrain Mall to distribute a total of 300 food hampers filled with pantry essentials to several charitable organisations in the Kingdom. These include: Al Sanabel Orphan Care Society, Iskan Jidhafs Charity Society, Royal Charity Organisation, and Red Crescent Society.
Carrefour has also setup designated donation boxes across its stores in City Centre Bahrain, Seef mall and The Bahrain mall so that customers can share in the spirit of the Holy Month by helping the less fortunate. Jerome Akel, Country Manager of Carrefour Bahrain at Majid Al Futtaim Retail commented "At Carrefour we're constantly seeking ways to give back to the communities in which we operate in.
This Ramadan, we set out to help segments of local society who are most in need of our assistance such as senior citizens, orphans, labourers and low-income families. Members of our staff were closely involved in assembling the hampers and selecting the charities as a result of the strong sense of citizenship that exists within our business. On behalf of everyone at Carrefour I wish all our customers a blessed Ramadan and encourage them to join us in creating great moments for everyone everyday, by making a difference whenever possible.
Amina Bucheri and Shoq Alawi -Al Sanabel Orphan Care Society, Mohamed Hassan Adbdul Rasool Alzaimoor and Mohamad Abdali Ebrahim Mohamed - Iskan Jidhafs Charity Society, Reena Hasan and Yaqoob Ameen Royal Charity Organisation and Mohamed Ebrahim -Red Crescent Society received hampers from Jerome Akel, Country Manager at Carrefour Bahrain, Ghassan Jaroudi General Manager of Marketing and Sourcing at Carrefour Bahrain, and Abhishek Shrivastava, manager at The Bahrain Mall accompanied by his team.