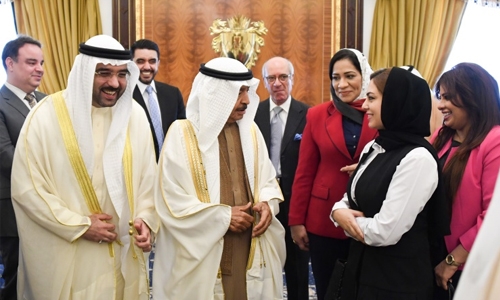 PM: Enhance executive, legislative cooperation
His Royal Highness Prime Minister Prince Khalifa bin Salman Al Khalifa called for strengthening coordination between the Executive and Legislative branches to benefit Bahrain and its people. "We are all working for the sake of the nation and its people, and we must strengthen coordination between us that would contribute to achieving the aspirations of citizens," HRH the Premier told Parliamentarians during a meeting held at Riffa palace.
HRH Premier underlined government's continuous efforts to implement modernisation and development projects saying, "meeting the citizens' needs and providing the requirements of decent living for them is a government priority." "Let those in the 'House of the People' be assured that their interests are ours and that our aspirations for the sake of the citizens go beyond theirs.
We spare no effort and harness all available potentials and resources to make the citizens feel that their security is preserved and their stability is ensured," the Premier added. Members of the Representatives Council lauded HRH Premier's open-door policy and extended deepest thanks and appreciation to HRH the Prime Minister for his unwavering support for strengthening Executive-Legislature cooperation.