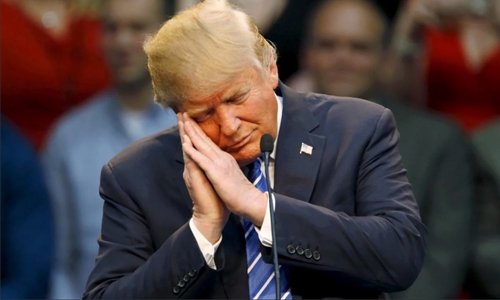 World rejects Trump's Israel move
Manama : Bahrain yesterday joined a growing chorus condemning Donald Trump's decision to recognise Jerusalem as Israel's capital and maintained its position on East Jerusalem as "an occupied territory" which must be ended.
Bahrain called the move a potential threat to the "peace process in the Middle East, which "disrupts" all initiatives and negotiations to reach a solution.
The decision, Bahrain said, is a clear violation of international resolutions that affirm the inalienable rights of the Palestinian people without any prejudice to them.
Stressing the need to reach "a two-state solution based on international resolutions and the Arab Peace Initiative" Bahrain also called for to establish an "independent Palestinian state on the June 4, 1967, borders with East Jerusalem as its capital."
Undersecretary of the Ministry of Foreign Affairs for Regional and GCC Affairs, Ambassador Waheed Mubarak Sayyar, during a solidarity stand at the Palestinian Embassy, said the US decision has caused a great shock but "would not change the legal status of the city of Jerusalem."
Ambassador Sayyar affirmed that Bahrain would stick to its firm stance in support for the Palestinian people's right to establish their independent state on June 4, 1967, borders, with East Jerusalem as a capital.
Nations in the Middle East and Asia, the European Union and the United Nations all voiced alarm at the US decision to move Israel embassy to Jerusalem.
Major US allies also came out against Trump's decision to reverse decades-old US policy on Jerusalem calling the decision as a dangerous disruption that contravenes United Nations resolutions and could inflame one of the world's thorniest conflicts.
"In this moment of great anxiety, I want to make it clear: There is no alternative to the two-state solution," UN Secretary-General António Guterres said.

Palestinian President Mahmoud Abbas, in a pre-recorded speech, said Jerusalem was the "eternal capital of the State of Palestine" and that Trump's move was "tantamount to the United States abdicating its role as a peace mediator."
The Saudi Royal Court issued a statement saying that the kingdom followed "with deep sorrow" Trump's decision and warned of "dangerous consequences of moving the U.S. Embassy to Jerusalem".
Jordan said Trump's action was "legally null" because it consolidated Israel's occupation of East Jerusalem.
In its first response, India said that its position on Palestine is independent and not determined by any third country. "India's position on Palestine is independent and consistent. It is shaped by our views and interests, and not determined by any third country," said Ministry of External Affairs spokesperson Raveesh Kumar.
In Rome, Pope Francis prayed that Jerusalem's status be preserved and needless conflict avoided.
Meanwhile, demonstrations broke out outside the US consulate in Istanbul, Turkey and in Jordan's capital Amman. Turkey's President Recep Tayyip Erdogan said Mr Trump was "throwing the region into a ring of fire".
In the Baqaa refugee camp on Amman's outskirts, hundreds roamed the streets denouncing Trump and urging Jordan to scrap its 1994 peace treaty with Israel. "Down with America...America is the mother of terror," they chanted.
Palestinians switched off Christmas lights on trees outside Bethlehem's Church of the Nativity, where Christians believe Jesus was born, and in Ramallah, next to the burial site of former Palestinian leader Yasser Arafat, in protest.
British Prime Minister Theresa May said she disagreed with the US decision, which was "unhelpful in terms of prospects for peace in the region". French President Emmanuel Macron and German Chancellor Angela Merkel both said their countries did not support the move. China and Russia have also expressed concern.